Nordic Skiers raise $9,000 Nelson Cares CNOY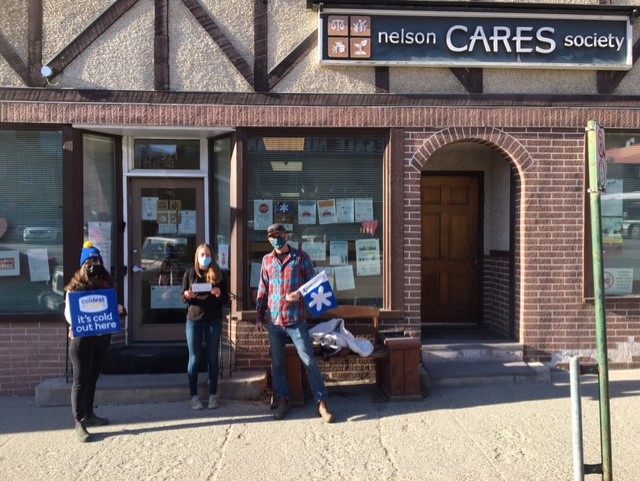 Teamwork is the fuel that makes Nelson CARES Society's Coldest Night of the Year fundraising event such a success every year.
The community comes together to make up teams of co-workers, family, friends, housemates or, this year, Nordic skiers.
Nelson Nordic Ski Club put together a team that might have been powered by jet fuel. The team of seven cross-country skiers raised more than $8,750 — but that's not all.
On Saturday, February 20th, the Nelson Nordic Ski Club donated another $345 from day pass revenue, bringing the total funds raised by the Club to over $9,000.
"Being Nordic skiers, we are all extremely fortunate enough to have the time and health to be able to participate in this beautiful outdoor activity," says team captain Randy Richmond, who raised close to $4,000 himself.
"The hardships for those facing homelessness, especially during the winter months, are severe. We wanted to raise funds to help the homeless, hungry and hurting in our community, and since the Coldest Night event was virtual this year, we decided to do it on skis, raising pledges for every kilometre we skied."
 Each team member put in some serious distance.
The youngest team member, Maya Abraham, 15, skied 50km on the day with her mom, Doris Hausleitner.
Meanwhile, Richmond skied 100km with other team members Travis Hauck and James Crossman.
Andrew Earnshaw rounded out the group, skiing 50 km.
Each year Coldest Night of Year awards those individual fundraisers who raise over $1000 a coveted gold button.
Well, both Richmond and Earnshaw could be sporting three of these button, each raising more than $3000 to support their team and the work on Nelson CARES Society.
This year's Nelson CARES Society CNOY fundraising campaign blew the roof off the previous fundraising numbers.
This is the case nationally, as well, with many of the 149 other CNOY locations across the country reporting record fundraising totals. Nelson ranked 31st out of those 149 locations on dollars raised. The Coldest Night of the Year fundraising event fully funds the Nelson CARES Society's 'Ready For Home' program.
At the core of 'Ready For Home' is a full-time paid staff member who works one-on-one with individuals to maintain their health and housing and prevent homelessness.
This program assists Nelson CARES tenants with life skills development, connection to health services, employment and income support… anything that will help these residents stay housed in their affordable unit and off the streets.
Nelson CARES Society preserves, maintains, and develops safe affordable housing, but sometimes a place to live is not enough and people need some support to maintain that housing.
"Every year our gratitude grows for the community support we receive for CNOY, it is truly amazing," Nelson CARES Society Executive Director Jenny Robinson says.
The funds go to support individuals to escape homelessness and stay housed." Nelson CARES Society wishes to thank its 2021 sponsors. Returning for a third year as Lead Sponsor is Valhalla Pure Nelson.
Joining them in this role are Nelson and District Credit Union, Nelson Home Building Centre and Organic Matters (OM Foods). There is also an impressive list of Event Sponsors including the Kootenay Co-op, Ellenwood Homes, Bowick Electric, and Derek Diener & Melanie Ward (Dominion Lending), North Mountain Construction, Nelson Ford, Mistiso's Place Vacation Rentals, Cartolina, NSDA Architects, The Blindman, Cover Architecture, Steer Environmental Associates Ltd., MaglioRona Building Centre, Studio 9 Architecture Planning Ltd., Kootenay Glass & Mirror, Buddy's Place, Urban Legends, and Inland Allcare.