Different crowds rally in Nelson: one raising climate crisis awareness, other against COVID-19 restrictions
Nelson was a place for contrasting rallies Friday and Saturday in front of City Hall — one rally in support of climate change while the other was challenging BC's ongoing COVID-19 restrictions and health orders.
Friday, people gathered in front of City Hall to bring awareness to the climate crisis in the world during the Global Climate Strike.
After gathering in front of City Hall with signs highlighting the banning of fracking and abandoning using fossil fuels to protect the earth from overheating, protesters marched through the downtown of Nelson carrying signs to raise awareness as well as stopping on street corners to blast their message to the passing public.
Participants signed contact tracing sheets before heading off in small pods of 10 or less to mitigate the risk of covid spread.
All strikers were asked to wear masks, physically distance and we set up a sanitization station.
Fridays For Future has sustained protest every Friday in Nelson since Fall 2019, adapting to the pandemic and persevering despite drastic government inaction.
"In no way do we intend to dismiss or trivialize the threat of Covid-19," said said Linn Murray, 21, a Fridays For Future organizer.
"We have thought very carefully about how best to run this strike, in a way that is safe, and that does not put anyone at risk."
"We care very much about following the science, indeed it is why we are in the streets for the Climate Crisis," Murray added.
The march was organized by Fridays for Future West Kootenay, a local group committed to changing the world by starting the fight in Nelson.
"We are here to call out the Canadian government, as well as governments around the world for their empty promises on curbing emissions," said Oscar Hunter, 17, one of the organizers with Fridays For Future.
"Our governments both in Canada and in BC continue to say that climate change is important, while emissions continue to rise. As long as this trend continues, so will the strikes, every Friday world-wide."
Saturday, approximately 75 people protesting against COVID-19 restrictions, and not wearing masks, rallied as part of the World Wide Rally for Freedom and Democracy.
Supporters carried signs that accused the WHO (World Health Organization) of spreading the COVID-19 virus, calling the COVID vaccine an "illegal experiment on the global population" and "Freedom over Fascism".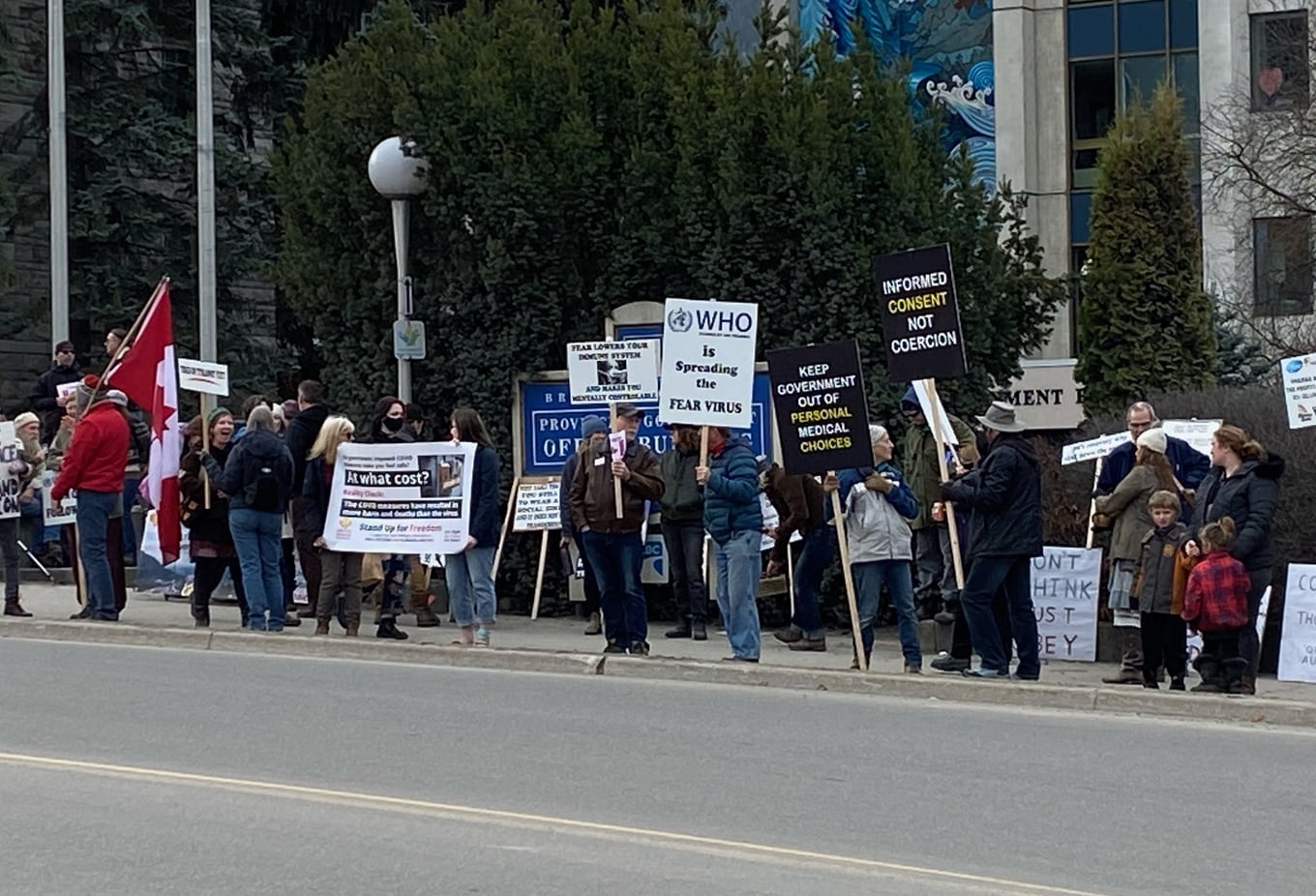 People against COVID-19 restrictions rallied in front of Nelson City Hall on Saturday. — The Nelson Daily photo
"The mandates, laws and edicts being implemented by provincial/ federal governments and international agencies to address the COVID19 pandemic are dehumanizing the human race," said a representative from organizing Kootenay Freedom group.
"If these mandates, laws and edicts were really about protecting the health of citizens, there would not be significant increases right here right now all across BC (including the Kootenays) with child abuse, drug addiction, domestic violence, unemployment, suicide and depression."
The Nelson rally was one of a few popping up in BC with other protests happening Saturday in Kelowna, Vancouver and Victoria.
In Alberta, a convoy of vehicles protesting against public health restrictions drove from Edmonton to Calgary, making stops in Red Deer and other locations along with route.
The Kootenay Freedom Peaceful Assembly has hosted other rallies in Nelson as well, while on most Saturdays, a group occupies the amenity center in front of the CIBC on Baker Street, carrying signs protesting the provincial public health orders.
The members of Kootenay Freedom said they are very much aware our rights and freedoms guaranteed in the Canadian Charter or Rights and Freedoms have been usurped and we are not content to live in a society that increasingly resembles a dictatorship.
Nelson Police monitored both rallies.
Kootenay Freedom said the group plans to hold its next rally Saturday April 3rd , 2021 from noon to 3 p.m. at Nelson City Hall when the "HUGS over MASKS FREEDOM TOUR" will make a stop in Nelson to join Kootenay Freedom at our Saturday vigil.
Vlad Sobolev, founder of Hugs over Masks, We Are All Essential and I Am a Free Canadian will be the keynote speaker along with other local and provincial speakers.