Running Santa runs to raise funds for Covenant House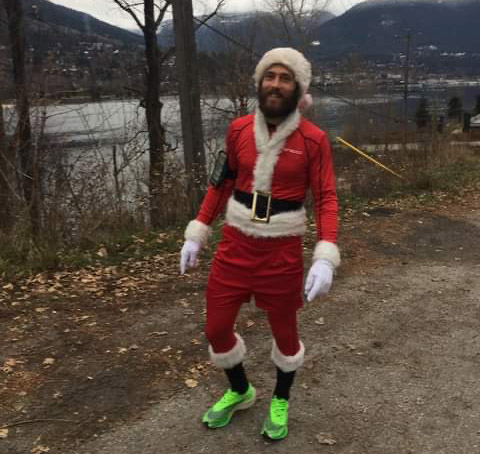 Santa arrived in Nelson Monday, complete with running shoes as Umberto Soda jogged in and around the Heritage City — over the BOB (Big Orange Bridge three times) in an attempt to raise $25,000 for a Covenant House Vancouver.
Soda, or Santa, created the 12 Days of Christmas campaign right here in his current West Kootenay home of Salmo after the Vancouver Marathon was cancelled earlier this year due to the COVID-19 pandemic.
Soda ran in Castlegar Sunday, Nelson Monday and was off to Salmo Tuesday, although with the current snowy conditions may need some assistance from Rudolph to get through the snowstorm.
"(I'm) on a mission to inspire the youth to run and create future Olympians," Soda said in a media release. "We have partnered with Covenant House Vancouver to raise funds for homeless youth."
Soda admits to making poor choices that led him to a derailment of his potential athletic career for a decade.
He felt lost in life without a purpose. That all changed through mentorship that forced him to rethink his life and guided him back to the sport of running while transforming his mindset.
He became dedicated to training along with guidance from professional trainers and coaches.
"I realized my story has the potential to make an impact and I started developing the Olympic Youth Running Project," Soda explained.
"Out of this came Santa on the Run and I have aligned myself with Covenant House Vancouver with the goal of raising $25,000 for our homeless youth.
"My vision is to inspire youth to become future Olympians by setting big goals for their performance."
Soda said people can donate today and have their donations triple matched by Ryan Reynolds and Blake Lively.
To make a donation go to this website address.
Umberto Soda taking a break from his run in Nelson with BOB (Big Orange Bridge) in the background. — Submitted photo