UPDATED: Kootenay Co-op puts limit on customers in store in response to COVID-19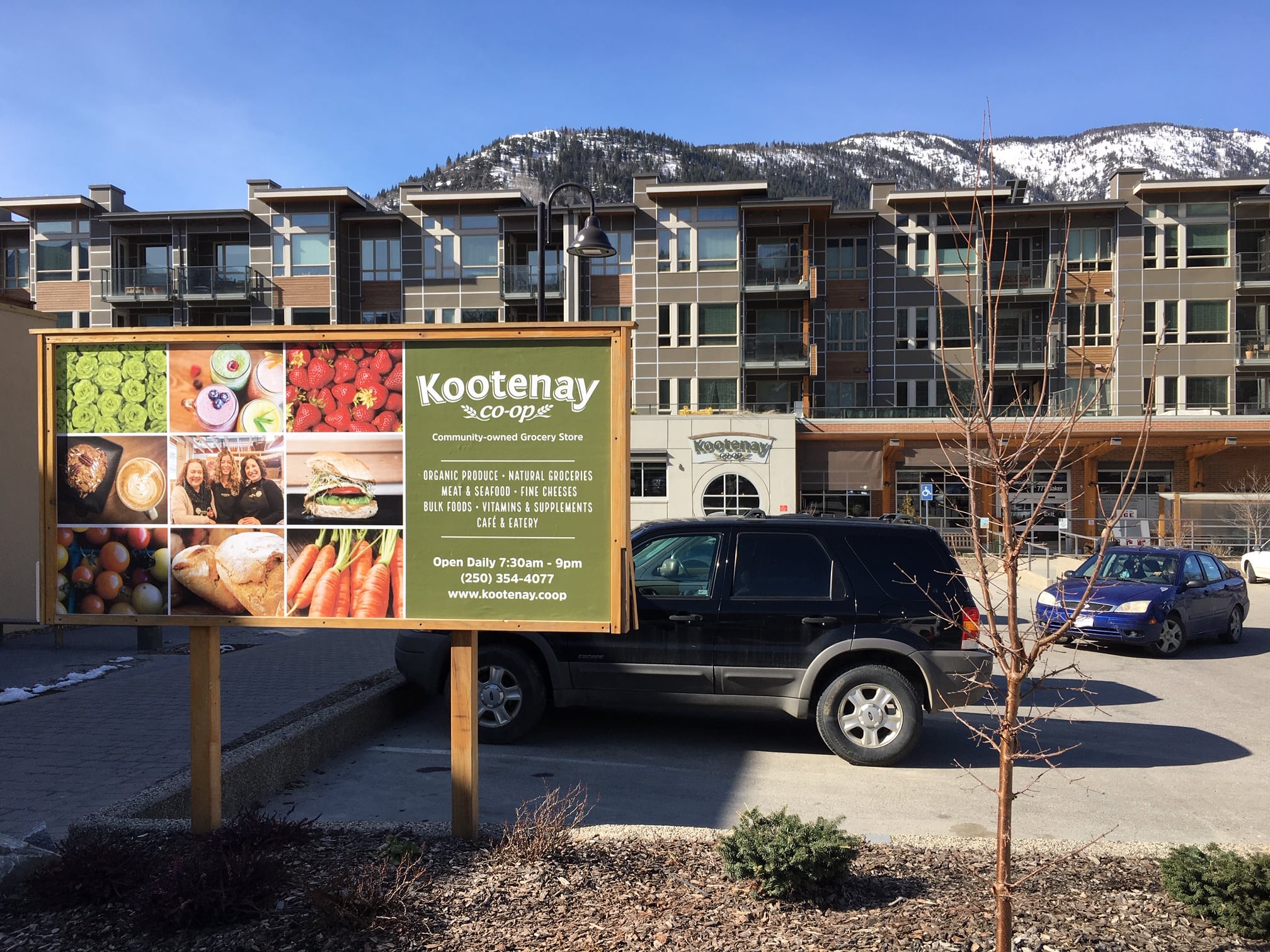 In response to the COVID-19 pandemic, the Kootenay Co-op is putting a preventative measure in place to allow more space between customers in the grocery store located at 777 Baker Street.
Starting Saturday, March 21, 2020, the Kootenay Co-op will limit the number of customers in the story to 30 at one time.
"This is a proactive, preventative measure to help slow the spread of COVID-19 by allowing for more space between people while in the store," said Kootenay Co-op spokesperson.
"We are deeply grateful to all our members and customers for working with us to keep our community as healthy as possible. Thank you for your thoughtful cooperation."
How It Will Work
A staff person will greet you at the entrance to make sure you have the information you need regarding our safety precautions prior to shopping. Our greeters will also monitor the number of people in the store. Once the store reaches capacity (30 customers), we will ask customers to form an orderly line under our covered area. As shoppers exit the store, we will allow the same number of people in line to then enter the store.
We encourage everyone to shop as efficiently as possible:
Shop less frequently and purchase more items at one time
Pre-plan your grocery shop by making a shopping list before coming to the store
Send one person from your household to shop instead of multiple people, and leave children at home whenever possible
Shop intentionally to get what you need and reduce browsing
Please assist with bagging and boxing your own groceries to keep line-ups moving
The Kootenay Co-op said these steps will reduce the number of times people need to visit the store every day and in turn will reduce wait times. These measures will also reduce the impact on our wonderful staff who are working tirelessly on the front lines to keep our community well-fed and nourished.
Caring for Each Other by Self-Screening Before Entering the Store
To help slow the spread of COVID and to keep our staff and customers as safe as possible, we ask you to consider if any of the following applies to you, if so please do not enter our store, and ask about our home delivery and curbside pickup options. 
Fever, cough, sore throat or difficulty breathing
Sick or feeling unwell 
Returned from abroad in the last 14-days
Been asked to quarantine or self-isolate
Knowingly interacted with someone who has COVID-19 or is awaiting test results
Safety Precautions
Please sanitize your hands upon entering the store and avoid touching your face while shopping
Please try to maintain a distance of 2m from other shoppers and staff when possible
No personal shopping bags or containers permitted in the store, we will provide free paper bags
Store Hours
The Kootenay  Co-op is open to everyone from 10 a.m. to 7 p.m, 7-days a week. In addition, the store is open from 9 a..m to 10 a.m., 7-days a week, exclusively for seniors and the immune-compromised. 
Kootenay Co-op, Save-On-Foods Save-On-Foods share new measures to better fight COVID-19 pandemic
The Kootenay Co-op and Save-On-Foods are doing their part to fight COVID-19 as well as provide shopping hours to seniors and people with compromised immune systems. 
In a media release, Kootenay Co-op said effective Wednesday, March 18th, the store will reduce our hours to 10 am to 7 p.m., 7-days a week with one hour, from 9 a.m. to 10 a.m. dedicated to seniors.
"These hours will allow us to properly re-stock and sanitize the store to serve our members and community and will provide our staff with time to take care of their families," the Kootenay Co-op said.
Meanwhile, Save-On-Foods in Nelson joins the 177 other stores in the four provinces and one territory to meet the unprecedented consumer demand on its stores and online shopping business.
In addition, all stores will open from 7 a.m. to 8 a.m. for seniors, people with disabilities and those most vulnerable to shop in a less hectic environment and allow for social distancing, as recommended by health officials.
Save-On-Foods is also encouraging those customers who can shop in store to do so and leave the online shopping services available to those who are not able to get to the store, including seniors, people with disabilities and those who are ill or self-isolating.
"It is not business as usual and my amazing team of 21,000 team members has a big job to do as they work around the clock to replenish the items our customers need," said Save-On-Foods president Darrell Jones.
"As always, Save-On-Foods will continue to work hard to safeguard the health of our team members, our customers and our communities. We have never seen times as turbulent and as uncertain as these and we are so proud of the great work our teams are doing."
The Kootenay Co-op said the store in Nelson will be stocked, cleaned and sanitized overnight to allow them to get the supplies they need in a less crowded and less stressful environment.
"If your immune system is compromised or you have low immunity the best course of action is to stay home and have someone else shop for you," the Kootenay Co-op said.
"If this is not an option for you please take the necessary precautions to protect your health. This is not an invitation for the unwell to enter the store, if you are feeling unwell or have recently returned to Canada do not come to the store."
Other steps taken by the Kootenay Co-op is to close the café, hot bar, salad bar, and made-to-order kitchen stations until further notice; no longer permit customers to serve themselves in the bulk department, instead a staff member will assist; customers using temporary containers has been put on hold; while Spring events as well as Case Lot Sale have been cancelled.
"As a community gathering place, we have a responsibility to our members, customers, and staff to reduce the spread of COVID-19 ("coronavirus")," the Kootenay Co-op said.
"We are proactively taking sensible precautions and invite you to work with us to address this situation as effectively as possible."
During this COVID-19 pandemic, the public is urged to wash hands frequently with soap a water; cover their mouth and nose when coughing or sneezing and try doing into their elbow, avoid other who are unwell, stay at home when sick a practice Social Distancing by staying away at least 2 meters when conversing.