Nelson's Arts and Culture hero Sydney Black
As a second-generation Nelsonite, Sydney Black pioneers her influence as a passionate ambassador for the arts and culture of the region. With over 8 years at the helm of her production company, Black Productions, she has presented 8 full-scale Broadway musicals at the Capitol Theatre (Chicago, Cabaret, Hedwig, Rock of Ages, Steel Magnolias, Grease, Mamma Mia, Chess and 2020's upcoming Little Shop of Horrors, and if she secures funding and a venue, get ready for an all female cast of The Tempest planned for 2021).
With that said, all of these productions have proven to be massively successful with audiences, with over 2000 in attendance each year. Sydney acts as the Artistic Director and Production Manager on each show, as well as filling roles in both leading and supporting positions. However, varied as her roles unfold, and the many behind-the-scenes strings she may pull, Sydney has a singular goal in mind, and that is to surprise and delight audiences while always being authentic to her true self, and that's pretty much it. I like to describe it as sort of an old school creative manifesto, without the bs.
Along with Black Productions, her capacity for programing, artist management, adhering to budgets and marketing knowledge led her to the Executive Director position at the Nelson and District Arts Council in March of 2016, and in the last four years she and her incredibly dedicated Board of Directors have increased membership from 38 to 125, and grew the board from 4 to 10 members. Under her direction the Arts Council has completely rebranded, revitalized and refocused their vision on Artist Support in the community and that mission certainly seems to be gaining momentum.
With this renewed focus, 2019 saw Sydney and the Arts Council received one of four City of Nelson Sustainability Leadership Awards for fulfilling the sustainability goals of the City of Nelson's Path to 2040 which heralds to demonstrate leadership in moving Nelson towards its vision of being a prosperous, resilient community. The council also successfully delivered the Hidden Creek Artist Residency, The Rural Artist Support Weekend, The Nelson Youth Arts Action Committee Trafalgar Mural Project, The Richard Carver Award, ArtWalk's 31st Anniversary and the extremely popular Nelson International Mural Festival, which is entering it's third year.
And uh hum, for those of you who haven't hit this amazing festival up yet, it's an amazing experience. The Nelson International Mural Festival is truly a celebration of all things public art for our city. In the first two years of the festival (2018 & 2019) 17 murals were created, and during the summer the three-day festival culminates to celebrate these beautiful pieces of public art, in a dazzling array of music, dance, light, imagery and performance art.
And this year will be no exception. The 2020 festival will be comprised of artist talks and panels, workshops on dance, public art, becoming a professional muralist, hip hop music, large scale art process, appreciating not appropriating cultures, documentary film screenings, street theatre, dance performances, community openings led by elders from our Regional Indigenous Nations, family friendly street party featuring a diverse group of artists from Vancouver who represent Nelson's community members that see little representation: People of Colour, Indigenous people, LGBTQ+, Differently Abled people, as well as featuring local musicians and performance artists originating throughout the Columbia Basin. Of course, all events are free of charge, and held in fully accessible, centralized community spaces, providing opportunities for all members of the community to take part.
The really engaging aspect of this festival is that the murals continue to have the opportunity to affect the community and continue to provoke conversation and inspire creativity for their life span. Their hope is to create an additional 10 murals in 2020 on both public and private walls and will feature a culturally diverse array of professional muralists that range in genre. Last year they had over 400 artist applications, and this year's selection process had over 200 people apply from 36 countries. These muralists are comprised of local, national and international talent, and are selected by a 5-member arm's length jury.
Another addition for 2020 festival will be a youth component that involves the youth dance community (Funding pending), which will see 5 days of dance workshops with Vancouver hip hop dance crew 'Immigrant Lessons' planned for the Nelson and District Youth Centre. These workshops will be offered to local youth free of charge and will be open to dancers of all abilities aged 13-25. The youth dancers will then have the opportunity to perform alongside 'Immigrant Lessons' on the Nelson International Mural Festival stage on opening night, providing them with invaluable performance experience in front of a large, live crowd.
To that end, the goal of the NDAC is to increase the cultural vibrancy of Nelson by engaging local, national and international street artists, muralists, creators and arts lovers through large-scale public artworks and educational opportunities. It's this shining light on our local culture and history, encouraging collaboration and community building that really makes this festival very special. NDAC is also committed to providing a platform for muralists and performance artists from regional Indigenous Nations, and they will continue to build relationships and honour the nations on whose unceded territories they operate.
In this edition of The Daily Dose, Editor Jeff Sawyer talks it up with Sydney Black,
Executive Director of the Nelson District Arts Council and founder of Black Productions and explores her perspective for what sets the perfect the stage on everything arts and culture in Nelson. Nothing to see here folks!
You are a gamut of productions and creative wealth; you seem to do it all. How would you describe your diverse repertoire of talents? What is the most challenging element in your creative sphere and what resonates the most?
Well first off, I have to say that I really don't do it all. There are masses of ridiculously talented humans that actually do it all and I just help to organize. I'm very blessed to be surrounded by uber-talents who choose to hide in the mountains J. I'd say the challenges are what you would expect with living in a rural community (challenging accessibility, gear availability, small population base) but those are also the strengths. The groups I work with are able to make large impacts because we operate in a small, rural community. It's also incredibly satisfying to support the production of high-quality art in our remote region. You don't have to live in a metropolitan centre to have professional quality cultural experiences and I love proving that.
Life can sometimes be described as anaccumulated ball of stories, wisdom, folly and failure. Can you share some of your own personal insights with me?
Being a good person is really important, especially if you are going to be a professional in your hometown. I am lucky that I was a relatively good kid growing up in Nelson and have made an effort to create meaningful relationships with the other humans who live here throughout my life. I'm pretty sure that has been a large factor in my ability to pull projects together and gather support. It's really helpful to be able to say 'I was in your son's grade 10 science class/worked for you/dated your 2nd cousin' and have that be looked on positively, when it very easily could go the other way.
I find you refreshingly direct, passionate and a very driven individual. Do you find yourself sometimes having to watch what you say, or is nothing off limits? How do you handle uncomfortable situations?
With NDAC, it's not about what I want, it's about serving the creative community with a board, so when I'm working in that capacity that is what I keep in mind. When I'm working with my own company (Black Productions) I can speak more to my personal goals. I honestly feel that being professional is very important when you work with the public, but professional doesn't have to mean uptight (I may be known to drop an F bomb here and there).
As for uncomfortable situations, I like to face them head on because waiting doesn't ever make things easier. As I've become a "real adult" I've found that dealing with the tough stuff is often what teaches me the most. Being direct also saves me from those 'middle of the night' wake up sessions where you worry about everything.
Being forward and real probably opens up some doors for creating super-inspirational material in an authentic manner. How does this affect your choice of selecting what play to produce, what talent you look to recruit, as well as how you want to capture the moment and direction?
I feel like the shows pick me in a way. Usually there will be a lightning bolt where a human I interact with reminds me of a character and then it gets my wheels turning. Basically, every single time I've started to think about a specific show, references to that work will start popping up all over the place. Take Hedwig and the Angry Inch, for example. I started percolating on that show and then all of a sudden there was an announcement of a huge revival of it and press for it was everywhere. Same kind of things happened with Grease, Steel Magnolias and Little Shop of Horrors. Those things feel like little signs that I'm on the right path (now that is some artsy stuff right there lol).
There is much-appreciated traditional and non-traditional art and culture related activities in Nelson. Do you anticipate any trends in programming at the NDAC, which could shape how audiences will define their experiences, and in turn help foster a greater appreciation and support of arts and culture in the region?
I see NDAC continuing to dig into the "art for all" idea that we have been focusing on for the last four years, as well as discovering new ways that we can support our local artists. Our community has beautiful theatres and art galleries that provide amazing programming, which are things that Arts Councils in other communities tend to do. Because we have so many amazing cultural entities NDAC can focus on developing community centred public programming that is barrier-free and fully accessible. We are wildly lucky to be able to operate in a community that values arts and culture, and we love to collaborate with the other arts and culture organizations to help make things happen.
Appreciating and culturally experiencing art in all its forms is incredibly gratifying, how do you see yourself facilitating connections through the NDAC in collaboration with the Cultural Development Committee for the City of Nelson? In your leadership role, how has the last 4 years as the Executive Director evolved in this capacity?
NDAC has had a seat at the CDC table for quite a while (well before my time), which is an honour. I've found the CDC to provide an amazing opportunity for executive directors/community reps who are dedicated to arts, culture and heritage to support the City of Nelson with the strategic direction of the cultural sector. Monthly meetings allow us to be aware of what one another is accomplishing in our respective organizations, and also allows us to find opportunities to work together for the greater good of the arts in our town. In the last four years NDAC's programming capacity has grown significantly, so we are able to bring more to the table as a partner when collaborating, which is good for the whole community. We are stronger when we all work together than when we work alone.
You are ridiculously in demand. Do you mind if I ask what demands more of you, playing with your Boyfriend's, Black Productions, the NDAC or your husband?
LOL I have the best husband ever. He is a total rockstar and supports all my crazy antics, so not him. The boyfriends aren't 'MY' boyfriends…they're 'THE' boyfriends, so they're not as time consuming as one would assume. I'd say event organization is what keeps me hopping, because the events I produce usually involve a minimum of 20 people, so NDAC and the theatre company are tied for most demanding J
What is your personal creative manifesto?
All art is valid. It doesn't matter if you are in your basement alone writing a novel that you never intend to publish or performing in front of a stadium of 50,000, or in Ymir or New York City. Location and audience do not an artist make. It's all about the act of creating something from inside yourself and letting it out. Not for anyone else. For you.
Would you rather play chess, or checkers?
Oooooooh. Deep. Chess. I love a good plan that looks two steps ahead. It's my shining type A personality coming through.
______________________________________________________________________________
If that's not enough to satisfy you, Sydney is also the Chair of the City of Nelson's Cultural Development Committee, and she said she doesn't do it all! Okay then!
For more information on the Nelson District Arts Council please visit https://www.ndac.ca
For everything Black Productions, please visit https://www.facebook.com/Black-Productions-271261646399858/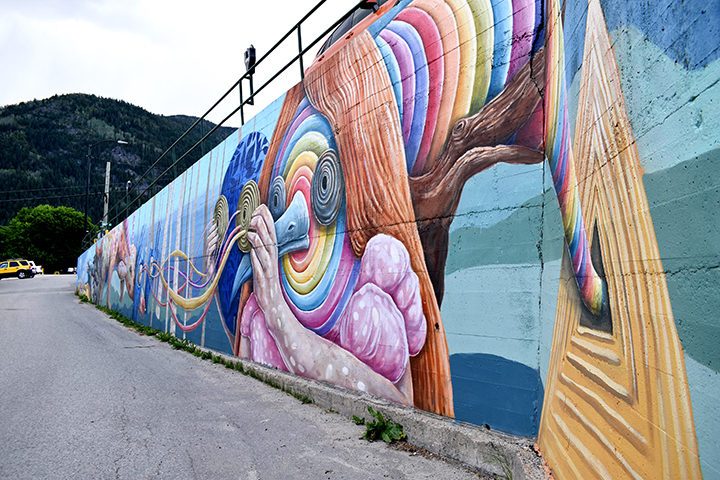 Artist, Katie Green of Calgary brightens the wall near the Nelson SPCA as part of the Mural Program with Untitled. — Photo courtesy Ingrid Love