Cougar, grizzly bear interactions with people on the rise while black bear activity flatlines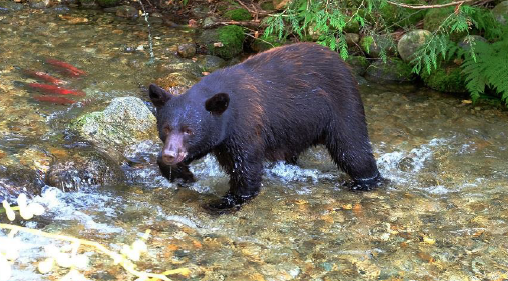 The interactions between humans and wildlife within the limits of the city shifted from bear to cougar in the last year, according to Wildsafe BC data.
In 2019 black bear complaints remained at average — around 100 calls for service for Nelson and regional district areas E and F — but cougar complaints climbed by 35 per cent to a seven-year high at 40.
Cougar complaints have risen since 2013 when there were eight complaints, and they have been the most active on the North Shore, said Wildsafe BC area coordinator David White.
"We've even had cougars within the city of Nelson, around Fairview and down to High Street," he said.
"Cougars can also become habituated to humans, especially if people leave livestock and pets unsecured and allowed to roam. Nelson has a lot of (house) cats roaming around the city."
White said cougars have been working their way from Johnstone Road all of the way to Six Mile, killing all sorts of pets and chickens along the way. He recommended people still keep pets inside from dawn to dusk.
Last year was a record year in North America for cougar attacks on humans, with one taking place in Oregon and another in Washington, and two attacks on young children occurring in the Kootenays: one in Fernie and the other in Christina Lake.
"It does seem to show that there is an interesting trend; it could be due to fires driving cougar's prey down into populated areas," said White, noting that was only a theory since he had no data to support it.
As well, grizzly bear complaints rose in 2019, doubling from last year to 18 calls to the conservation officer service RAPP line.
"There has been a general increase in bear numbers in the region," White said, adding that one grizzly bear (with two cubs) in particular might have been responsible for many of the complaints.
This year was a low average year for black bear complaints, said White. There were record low complaints across province.
"So where have all of the bears gone? We don't know," he said.
Some reports from loggers at high elevation were that they are seeing them up there.
"So maybe they are going higher this year," than coming down into urban areas, White said.
Garbage continues to be the largest attractant for bears coming in to Nelson, he added, even given that most people don't put (garbage) out at night in the city.
Garbage is a bit of a "gateway drug" for bears, it brings them in close to people.
"When they get accustomed to being around people they become habituated and they become more assertive or aggressive in looking for food (breaking into sheds)," he said.
Black bear complaints within the city rose to an unprecedented level in 2016 — to over 425 — but have been around the 75 to just over 100 mark for the last seven years otherwise.
The majority of black bear complaints occurred in September (35 per cent) and October (almost 20 per cent). In all cases, the attractants recorded on RAPP line complaints was garbage (52 per cent), fruit (15 per cent), livestock (12 per cent) and compost (10 per cent). Freezer (eight per cent) and BBQ (three per cent) attractants rounded out the list.
Keeping it in the can
Issues that cause problems with the rats also cause problems with skunks, said White.
"So whatever we do to control the skunks will also control the rats," he said.
Many things around the house can contribute to skunk issues, such as piles of wood, big cracks in concrete works where they can nest, old structures, tall grass and leaving garbage outside.
A big problem in Nelson is old sheds left open that no one uses anymore, White explained.
"That's total skunk habitat," he said.
Frequent watering of lawns in Nelson drives worms up to the surface and it attracts robins but also skunks. If given the right circumstances, the number of rats and skunks will reduce to a healthy number, said White.
"Unfortunately, in Nelson we've created a perfect storm of food and shelter for the proliferation of skunks," he said.