Home Weatherization Program offers Seniors chance to make home energy efficient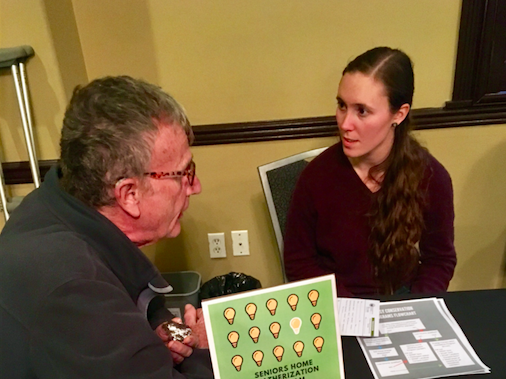 West Kootenay EcoSociety and Nelson Hydro's EcoSave Program are pleased to announce their partnership on a new Seniors Home Weatherization Program.
The program will offer 100 free installations of basic home energy efficient products and energy saving advice for seniors in the Nelson Hydro service area, including LED light bulbs, weatherstripping, water-efficient shower heads, faucet aerators, outlet insulators, and more.
"This is a wonderful service to be able to provide to our seniors," said Erin Thompson, Program Manager at West Kootenay EcoSociety. "It's an opportunity to talk directly to seniors about the range of home energy efficient upgrades, while helping them decrease their environmental impact and save money on their energy bills."
Participating seniors will also receive information on rebates they could receive for further energy efficiency upgrades, and assistance with the process. By joining the program, seniors can see the real value even minor changes can make to increase their comfort and lower their energy expenditures at home.
"The Seniors Home Weatherization Program is a more hands on approach, that will help a senior to immediately start saving energy in their home for free," said Carmen Proctor, EcoSave Program Manager. "We are proud to offer this level of assistance, navigating through the various options can be overwhelming and this program will simplify saving energy and money".
Any Nelson Hydro customer who is over 65 years of age, or who will turn 65 in 2019 is invited to participate. Registration can be accessed online at ww1.ecosociety.ca/seniors-weatherization, or by calling Erin Thompson, Program Manager, at 613-795-2460 for more information.
Any Nelson Hydro customer who would like more information about EcoSave, how to access rebates and low-interest financing for energy efficiency upgrades, is welcome to contact Carmen Proctor at ecosave@nelson.ca or 250-352-8278.
West Kootenay EcoSociety is a non-profit community-driven organization that works to bring together local residents to protect the natural environment while building just, equitable, healthy, and livable communities in the West Kootenay region.