New plan for skate park would see 'multi-generations' included: Rotary Daybreak Nelson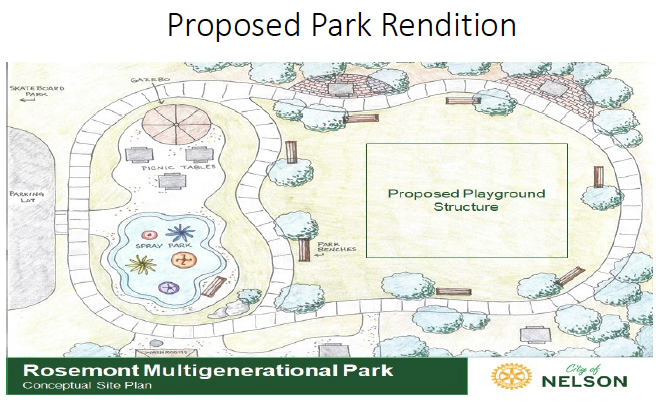 The plan for a multi-generational park in Rosemont will likely be moving ahead.
Building upon the success of the skateboard park project in 2014, Rotary Nelson Daybreak has petitioned the city for permission to begin a three-phase project in the city-owned Art Gibbons Park in upper Rosemont.
The park project would be a multi-generational endeavour, noted Rotary member Mike McIndoe in his presentation to council, since the club realized the range of ages that frequented the skate park.
"The thing that surprised us was the all-wheel park was multi-generational with adults there as well as kids" using the park, he said.
Several Rotary members felt the seniors could not access the park, however, as well as budding skateboarders, McIndoe added, and a plan was made to accommodate them.
"(This is for) little kids who were too young to be in the skate park and old kids like me — I live next door in Jubilee Manor — that could go there as well," he said.
The park is already being used by people who are multi-generational, said Rotary Daybreak president Meg Milner.
"But it's a bit of a challenge for someone with limited accessibility to be able to use the park right now," she said.
A survey and community consultation process last year — one online and another on paper — revealed 87 per cent of respondents in favour of the project, noted Milner, with 46 per cent of people surveyed in the adult category.
As well, over half of the people surveyed were from Rosemont, she noted, and the survey itself represented over 500 people.
"So we heard loud and clear from that area that they are in support of this project," she said. "We felt this was representative of the community itself."
But the club needs the official nod from the city to begin raising money and nailing down the plans in earnest.
"Our ask right now is that we get the go ahead" for the project, said McIndoe. "We are going to be the people who are going after the funds — that's what Rotary does. We do it better than anybody because we have a track record of getting things done.
"What we need from the city is the okay to do this. You are going to own it. You are going to manage it" after it is completed.
Most of the city councillors appeared to be in favour of the project, but the matter first has to be referred to city staff for presentation at an upcoming business meeting.
In that meeting council will vote and debate on the merit of allowing the project to move ahead.
The project is planned in three stages, with the first stage being a "natural" playground for children up to five years old, as well as a section for children aged six to 12.
The second stage would be paved walkways with some cemented areas, and the third stage would be a spray park (constructed over several years).
Also on the top nine list of park features were more benches, picnic areas, green space and a gazebo.
Timeline over 10 years
Art Gibbons Park was created as a wilderness in-the-city park with forested walkways, picnic tables, occasional benches and restrooms.
May 2014 — Rotary Nelson Daybreak project: World-class skate park opened along with a large mountain bike skills park.
November 2016 — City verbally committed $82,000 toward a playground in Rosemont Park.
January 2017 — City budget included $60,000 for playground in Rosemont with understanding of partnership with Rotary. But a letter from the city stated that council required a community consultation process prior to budget approval.
September 2018 — In partnership with the city, community consultation with surveys and a public information session was completed.
— Source: Rotary Nelson Daybreak