Governments announce significant investment in Kootenay Lake Ferry system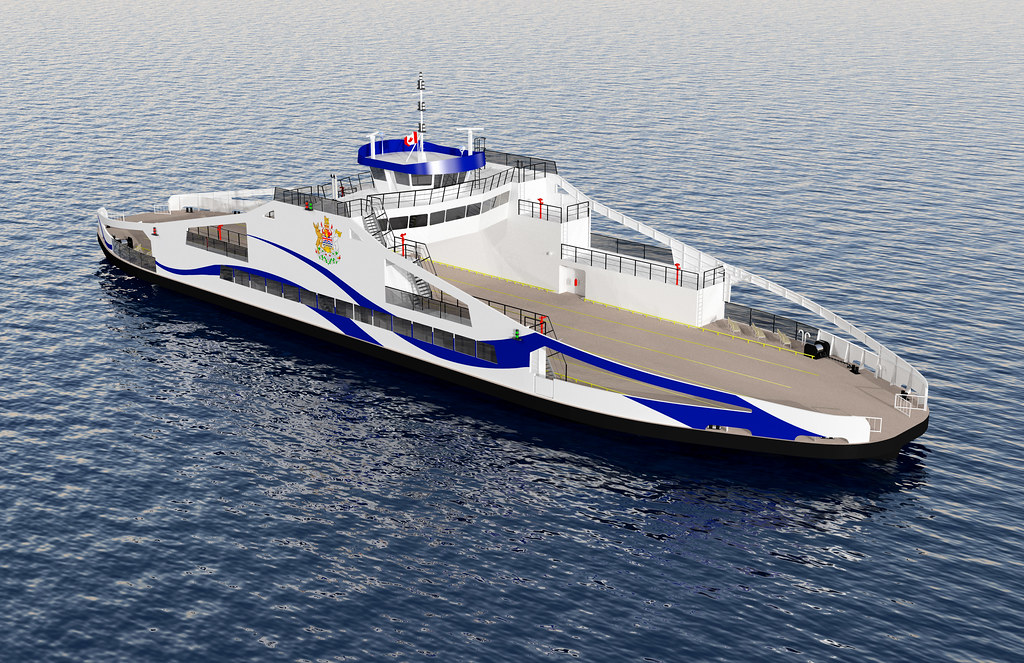 Talk of "Oh, no, only the Balfour Ferry is running today," by Kootenay Lake Ferry users or traffic delays at the Balfour or Kootenay Bay terminals due to seasonal avalanche control on the Kootenay Pass may soon be a thing of the past following significant announcement Monday by the BC and Federal Governments.
In a media release Monday, François-Philippe Champagne, federal Minister of Infrastructure and Communities, and Michelle Mungall, MLA for Nelson–Creston, on behalf of Claire Trevena, B.C.'s Minister of Transportation and Infrastructure, announced funding to greatly improve the Kootenay Lake ferry service.  
The project involves procuring a new larger electric-ready vessel that will have almost twice the capacity of the MV Balfour and be able to accommodate between 50 and 60 vehicles. The new vessel will be used in tandem with the larger MV Osprey 2000 to significantly decrease wait times for users during peak seasons.
"Kootenay Lake Ferry connects communities, and it's time for an upgrade to this important crossing," said Mungall on behalf of her cabinet colleague.
"With a new ferry replacing the MV Balfour and improved terminals, we can celebrate the positive impact this will have throughout the region, particularly on our local economies."
The media release said once complete, this project will allow the Kootenay Lake ferry service to safely and efficiently serve the next generation of ferry users and provide a more enjoyable travel experience from point A to point B.
Upgrades will also be made to the Balfour and Kootenay Bay terminals, including new washrooms, sheltered waiting areas, public parking spaces and better terminal access for drivers along both Highway 31 and Highway 3A.
Champagne said the Government of Canada is contributing up to $17,176,667 to this project through the New Building Canada Plan.
The Government of B.C. is providing up to $37,515,720.
"Investing in the improvement and expansion of our public transportation systems is essential to providing a high quality of life for residents and supporting tourism," said Champagne in the joint announcement.
"These upgrades to the Kootenay Lake ferry service will make daily travels easier and more comfortable for local residents while making way for even more visitors to enjoy the region's many attractions."
The release said this new electric-ready vessel supports the B.C. government's CleanBC plan to achieve full electrification of the inland ferry fleet by 2040.
CleanBC puts the province on the path to a stronger, better future by reducing climate pollution — including using cleaner energy in transportation and other sectors — to protect its clean air, land and water.
Quick Facts:
Budget 2019, Investing in the Middle Class, is the federal government's plan to create more well-paying jobs, put home ownership within reach for more Canadians, help working people get the training they need to succeed, support seniors and lay the foundation for national pharmacare.
With many municipalities across Canada facing serious infrastructure deficits, Budget 2019 includes a one-time top-up of $2.2 billion to the federal Gas Tax Fund to help address short-term priorities in municipalities and First Nations communities.
Budget 2019 builds on the Investing in Canada Plan, under which the Government of Canada is investing more than $180 billion over 12 years in community infrastructure across the country. More than $10.1 billion of this funding is supporting trade and transportation projects, including $5 billion available for investment through the Canada Infrastructure Bank.
Ferry service on Kootenay Lake operates between Balfour on the west side and Kootenay Bay on the east side. The distance is about 9 kilometres, with a crossing time of about 35 minutes. The Balfour ferry terminal has been in place since 1947.