Sidewalk café bylaw creates new paths for 'vibrancy' in the downtown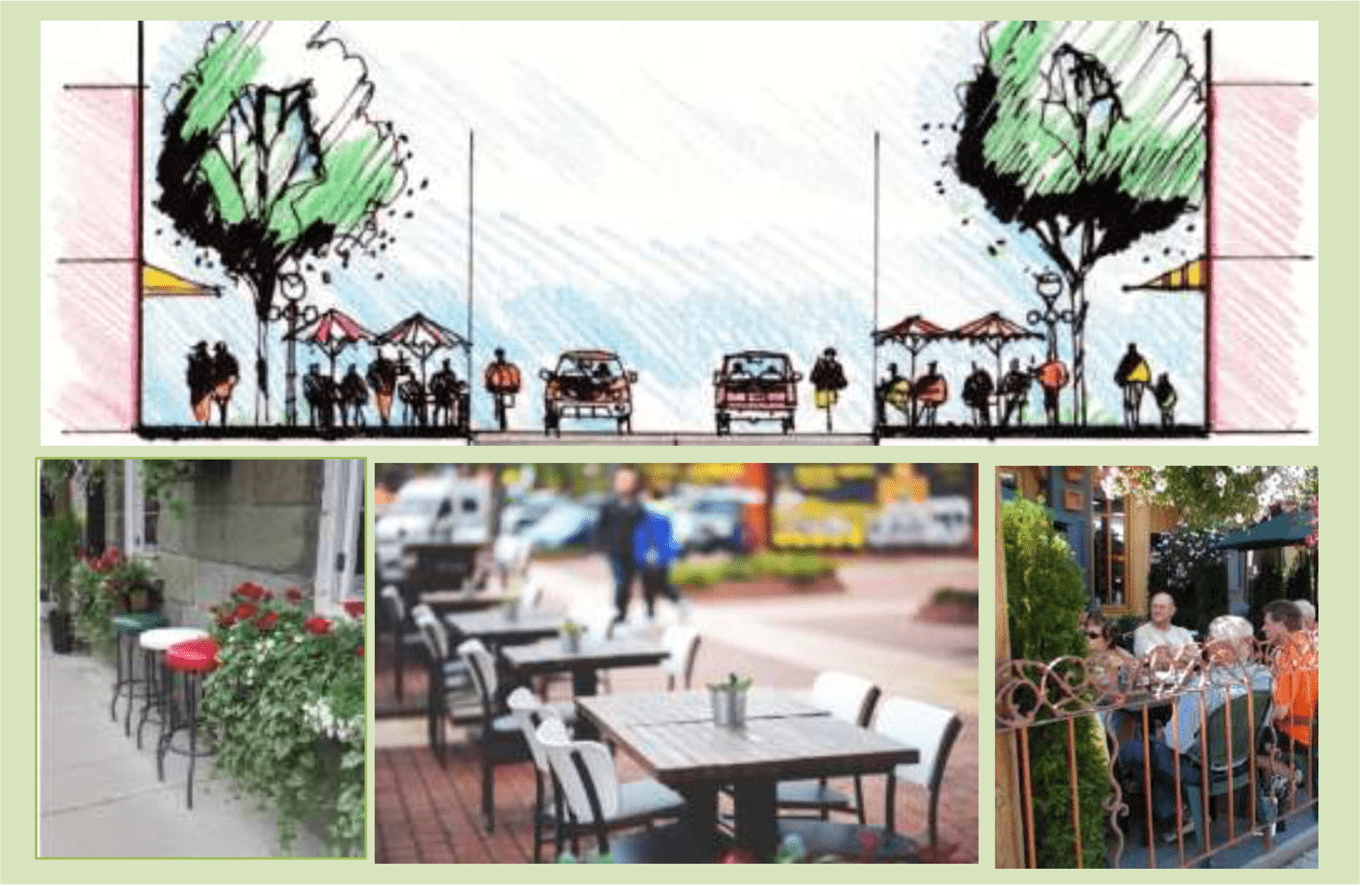 There could be more opportunities to hoist a cup of Joe on the downtown streets of Nelson this summer than ever before.
The city is in the midst of approving a new bylaw that deals specifically with sidewalk cafés — parameters, design and hours of use — and centres more around encouraging proliferation of the patios than restricting them.
In fact, city senior planner Sebastian Arcand told city council recently — when the bylaw passed third reading Monday night — that the new bylaw would include opportunities for free, small sidewalk cafés of up to three tables and six chairs to be created.
"We felt this would create vibrancy on our city streets," he noted.
In all, the city hosted 19 sidewalk cafés in its downtown area during the 2018 season, Arcand said.
"These form an invaluable component of vibrant streets and as such it is important that the city provide comprehensive direction in the design and operation of sidewalk cafés so that the local economy and businesses can thrive," he said in his presentation to council.
Mayor John Dooley agreed with the importance of having sidewalk patios and cafés, but he wondered if there was provision in the new bylaw for dealing with grandfathered patios that had moved past their prime condition.
"If would be nice if people could talk to the city and get (recommendations) on how" to improve their patio design, he said. "Would it be worthwhile meeting with them and discussing what would fit best?"
Although the bylaw clearly reflects policy and design recommendations found in various city documents within a regulatory bylaw format, Arcand said, a sidewalk café that has been granted approval in 2018 will be allowed to continue with their current patio design provided no major changes are proposed. 
"As changes or repairs are needed, sidewalk café operators will be required to follow the new bylaw regulations," he explained.
"If they are just re-installing the old patio we will go out and inspect it and if they are not aesthetic or safe then at that point we can revoke the permit."
According to the city, a sidewalk café is an area within the public right-of-way that is permitted for use by an adjacent establishment, while the bylaw defines it as "an outdoor patio, sidewalk patio, street patio or deck located on a sidewalk or other portion of a street, including parking stalls, permitted by a sidewalk café permit for the purpose of serving food and beverages in an outdoor setting to seated patios in conjunction with an existing business."
The principal purpose of replacing the policy with a bylaw was to regulate sidewalk cafés in the municipality by providing "a unified and consistent guideline for their construction and operation," said Arcand.
The new bylaw ensures sidewalk café's are well designed, allow for pedestrian movements and promote an active downtown. 
"Also, the proposed bylaw will streamline the application process for a sidewalk café permit as it will no longer require patio operators to enter into agreements every three years," Arcand said.
The major points included in the bylaw include the consolidation of provisions and guidelines from city documents — the Downtown Urban Design Strategy and Official Community Plan — within the new bylaw, and definitions that will assist business owners with proper sidewalk café construction and bylaw compliance.
The hours of operation are also defined, allowing patios to stay open until 12 a.m., two hours later than previously.
Coun. Jesse Woodward wondered how much of a loss the patios on city parking stalls would create.
Arcand said with around 600 metered parking stalls in the city — and 1,400 parking stalls overall with all on-street parking considered — the impact of lost parking stalls was around one per cent, based on 2018 figures.
"Yes, we lose a few stalls but there's more positivity in creating a vibrant downtown," he said. "We did look at (capping the number of stalls), but four the time being we don't want to cap it."
Public notification of the bylaw is not required; however, business owners affected by changes under this bylaw have been consulted, Arcand said. Once adopted by council, the bylaw will be posted on the city's website.