New Harrop II Ferry now in service for Harrop/Proctor community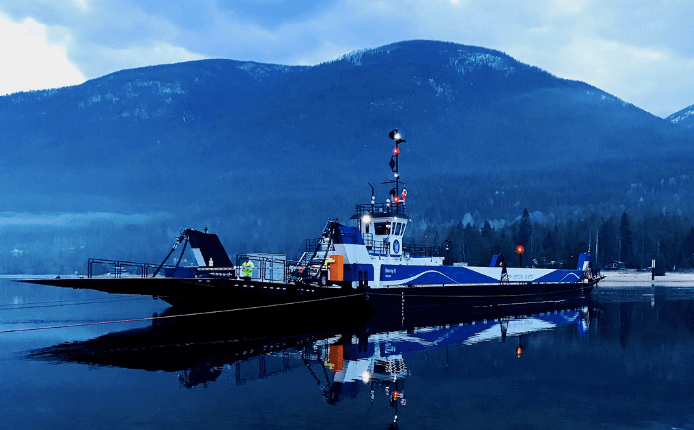 There's a new cable ferry is now in service on Kootenay Lake, connecting residents to the local ferry-dependent community of Harrop Procter.
The former ferry service, which held a maximum of 48 passengers and 21 vehicles, has now been increased to take 98 passengers and up to 24 vehicles. The Harrop ferry runs across Kootenay Lake, on Highway 3A, 24.5 kilometres northeast of Nelson and eight kilometres west of Balfour.
The Harrop II is the third vessel to be delivered under a contract with Waterbridge Steel of Nakusp. In 2016, the company was awarded a $27.9-million contract to design and build four new cable ferries to serve the province's inland routes. The final vessel, the Arrow Park III, is scheduled to be in service by the end of 2019. The Glade II was added to the fleet in 2018 and the Adams Lake II went into service in spring 2017.
These new ferries are larger and able to carry more vehicles than the ferries they replace, with capacity increased to handle commercial vehicles at full highway loads. While the ferries are docked during off-peak hours, power will be supplied by on-board batteries. This will reduce noise at the terminal and lower the vessels' greenhouse gas emissions.
For the Province's inland ferry fleet, the future is electric. Electric propulsion has excellent potential for inland ferries where crossing distances are short. The Province is taking incremental steps in this direction as the technology develops to support reliable ferry service delivery. The ministry aims to achieve full electrification of the inland ferry fleet by 2040.
Quick Facts:
* The Harrop cable ferry carried more than 290,000 vehicles and more than 419,000 passengers last fiscal year.
* There are 14 inland-ferry routes in B.C. that are operated for the Province of B.C. under contract.
* Five of the routes are served by cable ferries, five are reaction ferries (propelled by river current), three use free-running ferries and one is served by a tug and barge.
* Last fiscal year, the province's inland ferries carried approximately 1.5 million vehicles and almost 2.4 million passengers.