Girvan, Henman recognized by Nelson's Cultural Development Committee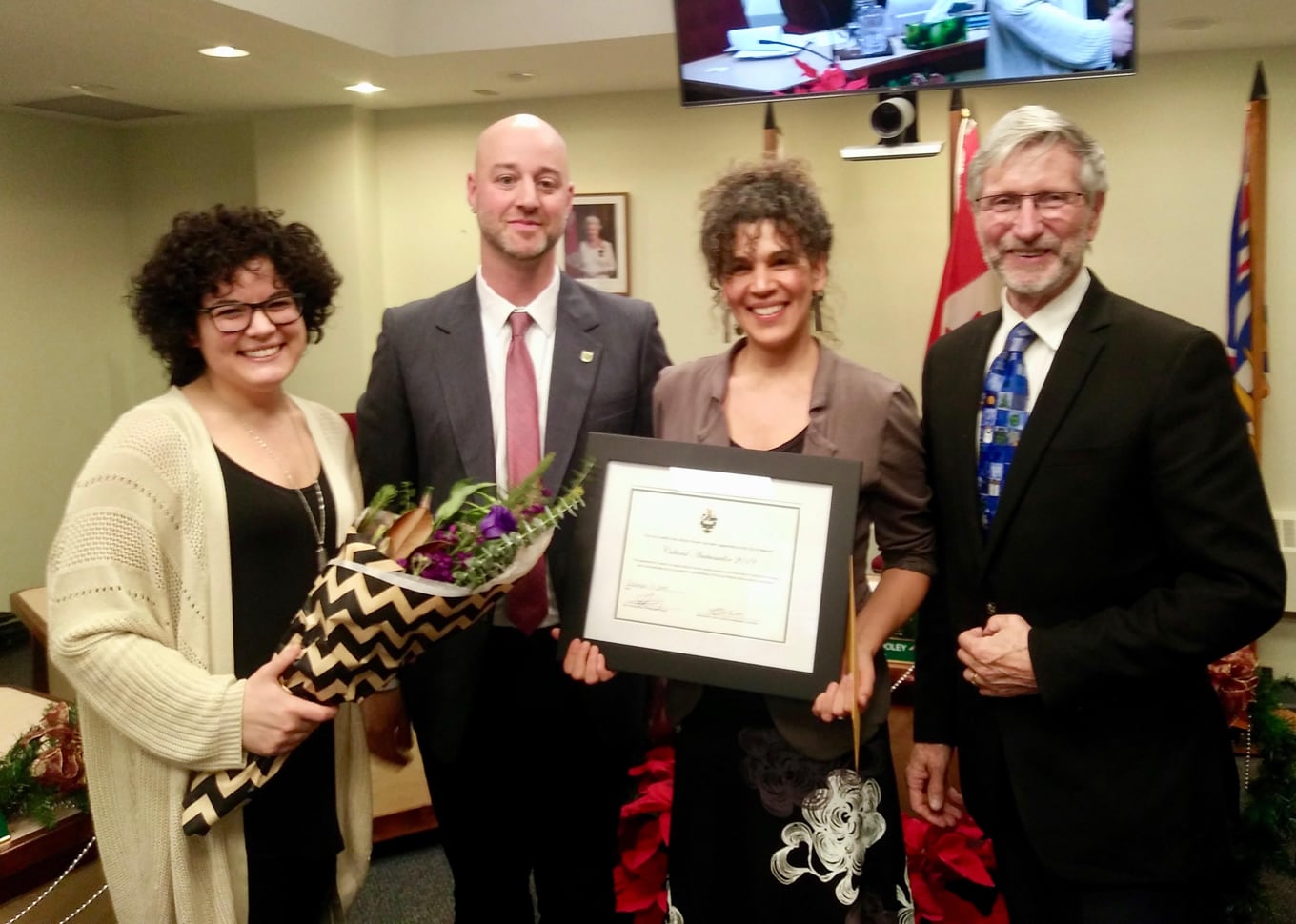 Two icons in the local arts and entertainment industry were recently honoured by Nelson's Cultural Development Committee.
Singer/performer, music director and choral arranger, Allison Girvan, and professional performing artist Pat Henman were presented with respective awards by Mayor John Dooley and Councillor Jesse Woodward during a recent ceremony at Nelson City Hall.
Girvan was appointment as Nelson's 2019 Cultural Ambassador in the category of Theatre/Performance while Henman received a Special Citation in recognition of her dedicated work fostering and furthering Nelson's vibrant culture.
"I feel an incredible amount of support when performing and working in Nelson, and on tour I'm so proud I'm from here," said Girvan in a Cultural Development Committee media release.
"This award represents a concrete manifestation of the relationship I have with my home and is a beautiful example to other places of how Nelson celebrates and values its artistic community. I feel so honoured for this recognition and look forward to continuing to share my love of Nelson using arts as the vehicle for 2019 and beyond."
Girvan's award comes with a $1000 honorarium.
"Allison is an ideal cultural ambassador for our city," said Sydney Black, Chair of the City's Cultural Development Committee. "She has truly been a gift to our community, and we are thrilled to recognize her with this honour."
Funded through a CKCA major project grant, Girvan is currently developing her latest project, Quintessence (Bridge Builder) along with previous Nelson Cultural Ambassadors Hiromoto Ida and Slava Doval, and composer Don Macdonald. This performance, to be workshopped in February and presented at the Capitol Theatre in October 2019, deals with the reality of climate change and political divisiveness, the subsequent loss of hope and sense of isolation followed by the struggle to find one's center and the path back to community.
Girvan takes over the position as Cultural Ambassador from dancer Slava Doval, who represented the City of Nelson in 2018. Previous Cultural Ambassadors include writer Eileen Delehanty Pearkes, visual artist Ian Johnston, musician Bessie Wapp, filmmaker Amy Bohigian, dancer Hiromoto Ida, author Anne DeGrace, fibre artist Angelika Werth, and the Corazón Youth Choir.
Henman moved to Nelson with her family in 2000, drawn by its reputation as a city with a thriving arts and culture scene. A professional performing artist for 40 years, she has produced, acted and directed in many successful plays which have toured throughout the region and the country. She released her first solo debut album in 2011, and in 2018, as featured artist and songwriter on a new CD, Edge of Heaven, her and her nine siblings performed in sold out concerts in Nova Scotia. In 2019 she will be directing Mamma Mia for Black Productions.
Henman has recently been appointed as the regional Board Member representing theatre for the provincial British Columbia Arts Council – an honour both for her and our city.
She has been and continues to be active in Nelson's art sector as both a volunteer and a staff member, including Executive Director for the Nelson and District Arts Council, Board Director for the Amy Ferguson Institute for Music, the Nelson Chamber of Commerce, and currently for the Capitol Theatre.
Henman's contribution to the overall cultural fabric of our community has been significant, and the City is pleased to recognize her with a Special Citation for her dedicated work.
The CDC established the Cultural Ambassador honour in recognition of local individual artists, groups or collectives who have achieved a high standard of excellence in their artistic discipline and who are active not only in Nelson's cultural community but extend their talents to other communities and countries.
The Cultural Ambassador is expected to represent and promote the City of Nelson on their travels, increasing the visibility and cultural reputation of Nelson.
Pat Henman receives a Special Citation in recognition of her dedicated work fostering and furthering Nelson's vibrant culture. — Photo courtesy Kelly Rebar