Winlaw artist claims Parksville International sand sculpture title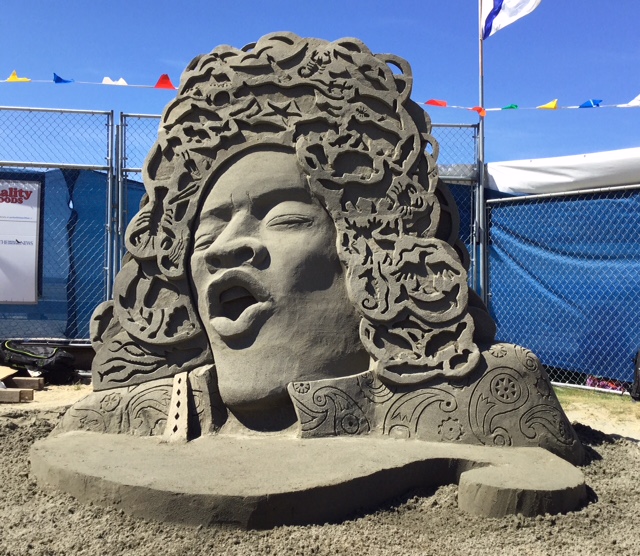 Peter Vogelaar of Winlaw recently captured the top prize at the Parksville International sand sculpture contest on Vancouver Island.
The Kootenay School of Arts grad created a sand sculpture of former rocker Jimi Hendrix. The theme of the competition was "Wild Things, from here to the Galapagos."
"I decided to depict Jimi Hendrix of "Wild Thing!" Fame . . . and used the animals to crest his hair," Vogelaar said, adding the sculpture took approximately 30 hours to complete.
Parksville is one of the top-rated sand sculpturing contests in Canada. Second was Ilya Filimontsev from Russia while Melineige Beauregard from Quebec finished third and Enguerrand David from Belgium fourth. Wilfred Stijger from Netherlands finished fifth.
"Nowadays, I only compete two or three times a year, but also participate in a number of commissioned events," said Vogelaar. "For example, I was in India in December (2017); Taiwan three times in the past three years; Kuwait four years ago, Italy, Holland, Belgium and many others — some of those competitions for snow and ice.
Vogelaar said all of these are exhibitions bring in artists from around the world to create the show, then generate considerable income from attendees. He said many sand shows stay up for two to three months.
Vogelaar has been creating sculptures for years, starting in 1992 when he heard about the BC Snow Sculpting Contest in nearby Vernon which offered as first prize a free trip to carve at the Quebec Winter Carnival.
He has done work at the Olympics in Nagano, Japan; Salt Lake City, Utah; and Italy as well as appearing at the Quebec Winter Carnival and Jack Frost Children's Winterfest in Charlottetown, Prince Edward Island.
Vogelaar recently helped coordinate the murals at the South Slocan Overhead project on Highway 3A/6 15 kilometers west of Nelson. The murals are located inside and at the entrance to the tunnel under the highway.