Nelson Fire Rescue deals with suspicious fire on CP Rail lands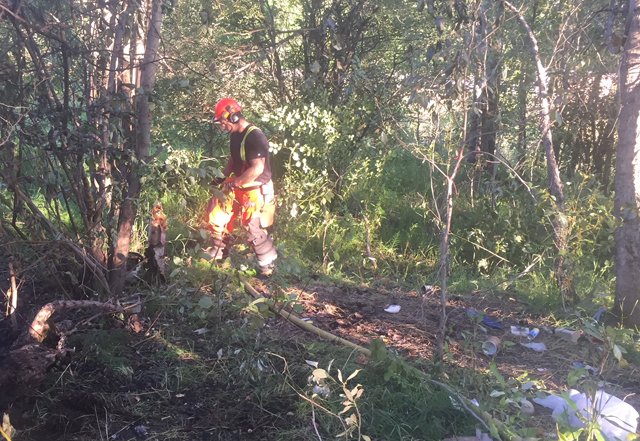 Quick response by Nelson Fire Rescue Wednesday evening avoided a squatter's campfire from spreading along the Canadian Pacific Rail lands at the end of Baker Street a media release said.
Nelson Fire Rescue received a 911 call at 6:14 p.m. of a campfire that was spreading to surrounding trees on the CPR lands.
"As the shift officer was preparing to respond by himself, multiple 911 calls started coming in, reporting that the fire was spreading in the grass and trees," said a Nelson Fire Rescue media release. "To complicate matters, an additional 911 call was received from the B.C. Ambulance Service, less than a minute after the fire call, requesting assistance at a medical response for a citizen in respiratory arrest."
Nelson Fire Rescue said both on-duty members responded immediately to the fire, followed by six additional off-duty members responding to the station.
"The first member to the station was directed to respond to the medical emergency, with additional support, including the water tender, responding to the fire scene," the release said.
When Nelson Fire Rescue arrived, firefighters noticed three separate fires that began spreading to the trees.
"The first arriving crew's primary objective was to stop the fire from continuing to spread," Nelson Fire Rescue said. "The fires were quickly knocked down and checked to ensure that there were no hot spots."
The fires are suspicious in nature and the Nelson Police Department is following up on leads. Officers collected some evidence at the scene.
In all, eight firefighters responded to the incident with one fire engine, one tender truck and one utility vehicle. There were no injuries reported as a result of this incident.
However, the cause of the fire remains under investigation.
Nelson Fire and Rescue Services would like to take this opportunity to remind everyone to that with the warmer weather upon us to be very careful with any sources of ignition and to report any fires that get away as soon as possible, to help limit their spread.
Southeast Fire Centre reports there are two small wildfires in the region, both lightning strikes burning around Cranbrook. The fire rating remains low to moderate in the region.
To report a wildfire, call 1-800-663-5555 or *5555 on a smart phone.