Mallard's Team of the Week — Nelson Selects U18 Provincial Champs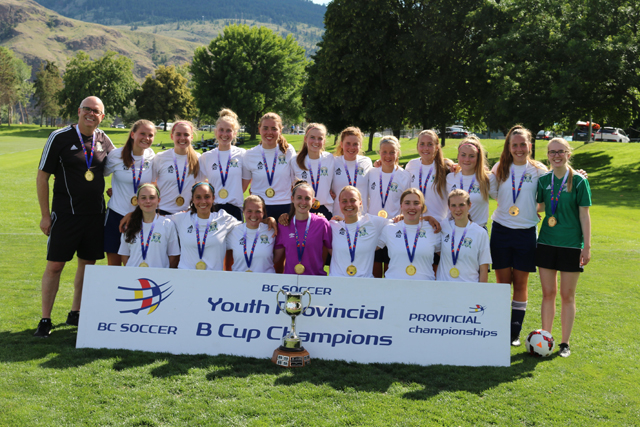 Perhaps the most successful group of players ever to graduate from Nelson Youth Soccer added more hardware to the trophy case by recently capturing the 2018 BC Soccer U18 Girls Provincial B Cup in Kamloops.
The Selects scored a 3-0 victory over the host Kamloops Blaze to complete the banner season.
For some of the Selects, the Gold made it an astounding five provincial medals for the trophy case. Keeper Hanna Quinn and defender Julia Burkart won Gold and Silver at the BC High School level as members of the L.V. Rogers Bombers and three at Provincial B competition — two gold and one silver — playing for Nelson Youth Soccer.
Teammates Grace Dehnel, Bella Guderyan, Ashley Hall and Shianne Michalchuk won four provincial medals — the quartet did not play for LVR during the 2016 Provincial Championship.
Both Quinn and Burkart are now off to continue their careers after accepting scholarships to CIS schools — Quinn in Lethbridge and Burkart in Kamloops for Thompson Rivers University.
Mallard's Source for sports would like to add to the celebrations by selecting the U18 Girls Team of the Week.
The team includes Coaches Paul Burkart and Ruben GuderyanGrace Dehnel, Julia Burkart, Rylee Zondervan, Bryce Winters, Ashley Hall, Chantal Gammie, Cara Bawdy, Jamie Horning, Shianne Michalchuk, Tara Horning, Sofia Arcuri, Mattea Lorenzo, Michaela Anderson, Hanna Quinn, Anna Milde, Bella Guderian, Jodi Surina and trainer Kyra Burkart.