Arson damages landfill equipment at West Boundary Landfill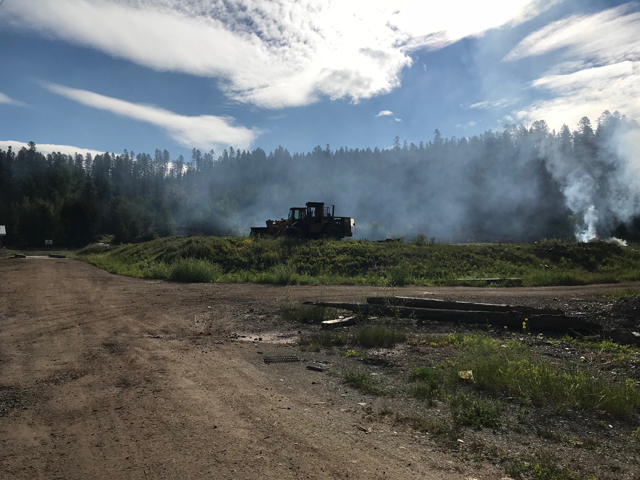 The Regional District of Kootenay Boundary is picking up the pieces after vandals broke into the West Boundary Landfill near Greenwood and set fire to wood piles and equipment.
In a recent media release, the RDKB said on the evening of (Tuesday) July 3, 2018, one or more people broke into the West Boundary Landfill and lit fire to three wood piles as well a landfill compactor and a loader.
"When the local Greenwood Fire Department responded, the landfill compactor was fully engulfed and severely damaged," the RDKB release said. "Firefighters on site allowed the wood waste piles to burn down before spreading the material and dousing with water. The RCMP were contacted immediately and issued a file number for the incident in order to begin investigating."
The RDKB said the fire could have spread to adjacent properties and the cost of repairing or replacing damaged equipment, while not yet known, will be significant.
"This is the first incident of its kind at the West Boundary Landfill or any of the RDKB landfills and staff are concerned that anyone in the region would commit such an act that could imperil staff, first responders, adjacent property owners and that harms the ability of the RDKB to provide important services to local residents and businesses."
The RDKB would like to formally thank the members of the Greenwood Fire Department for their efforts in responding to the fire call.
"Without their quick response and hard word, the resulting damage to the landfill and equipment could have been much worse."
Should any members of the public have any information about the incident or that would assist in identifying the individuals responsible, please contact the Midway RCMP at 250-449-2244.