Nelson prepares for potential flooding from Kootenay Lake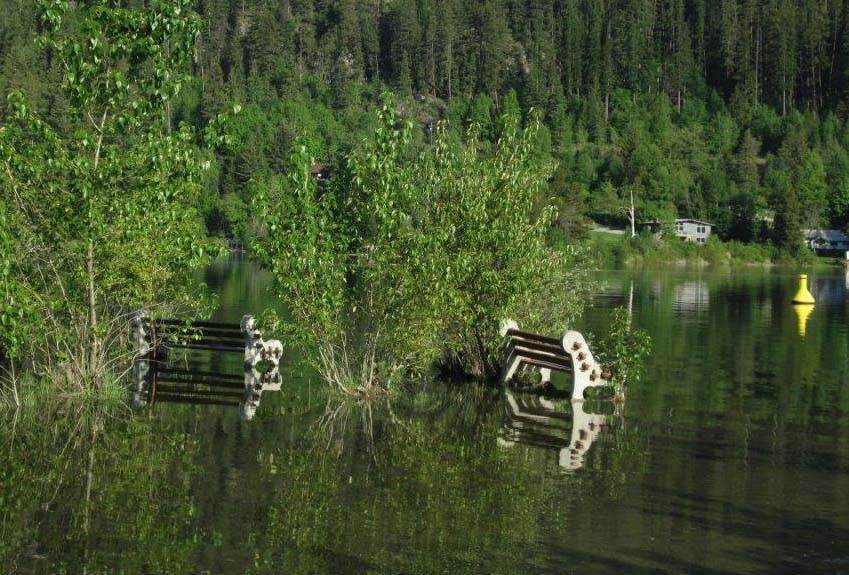 Rising lake levels due to warm temperatures, large snowmelt and forecasted rainfall could lead to flooding of low-level parks and sports fields in the City of Nelson staff said in a media release Wednesday.
Lake levels that have been forecast to potentially exceed the highwater elevations observed in 2012 as early as the end of May could ultimately lead to flooding at Lakeside Park, the Lakeside Sports Fields, the dogwalk/Airport area and the waterfront pathway along Sproat Drive City staff said.
"Lake levels are predominately driven by natural inflows from the melting snow pack and precipitation," the release said. "Due to the contributions of these two sources of water, creek levels are anticipated to remain elevated for several weeks."
City of Nelson personnel are currently monitoring lake levels, creek flow, bridges and culverts to ensure water is moving freely.
However, residents are advised to stay away from fast flowing creeks as the water is extremely powerful and changes in weather can result in levels elevating quickly. City staff has also been planning to deal with infiltration of storm water into the sanitary sewer system and surcharging of the storm water system.
"The City has been working to seal off points in the sanitary sewer system to prevent the infiltration of storm water" says Colin Innes, Director of Public Works & Utilities. "The infiltration of large volumes of storm water into the sanitary sewer can have a negative impact the functioning of our Sewage Treatment Plant ("STP")".
Staff said since the highwater event of 2012, when the flows to the STP, almost doubled, the City has done a number of things to reduce the ability of storm water from entering into the sanitary sewer, which includes activities such as relining sanitary sewer pipes to prevent the infiltration of storm and groundwater.
The City has also been involved in addressing locations where surcharging in the storm water system was observed in 2012.
These activities include the current Hall Street project which involves the twinning of the storm water lines from Lake Street to the waterfront. The City is also taking precautionary measures by sandbagging areas along Front Street where we have had flooding in the past.
Staff said the length of park closures will depend on the extent of any flood damage and the time it takes the water to recede off the playing fields.
Nelson Parks personnel will be closely monitoring any park closures and will evaluate when the playing fields and pathways are safe to re-open. Although the City will work to re-open any closed park areas as quickly as possible, it should be noted that it could take several weeks before lake levels return to safe levels.
"The City will be working with those sports groups that will be most affected, due to potential field closures and with others that will need to protect their property" said Mayor Deb Kozak. "Although we will be impacted by the high lake levels we don't anticipate any homes will be affected and a limited number of businesses may be impacted."
The City has set up a page on our website where more detail information will be posted, including maps of the areas that will potentially flood. We will also provide updates through our Facebook page, the notify me function and if an emergency, the emergency alert system. We encourage all residents to sign up for these notification systems at www.nelson.ca
What can residents do?
Residents are advised to stay away from fast flowing creeks. The fast-flowing water is extremely powerful and the water elevation can change quickly with changes in weather or due to debris flows causing daming to occur in the creeks.
Residents are advised to monitor their basement for signs of water seepage. This includes protecting or relocating valuables to a higher elevation to avoid water damage.
If Residents are concerned with either a sudden increase in stream elevation or have observed sudden accumulation of debris in a creek they should report these observances to the City for follow up at 250-352-8238.
If Residents are concerned that their property could be impacted by either elevated creek or lake levels, sandbags and sand have been made available by the City and are located under the Big Orange Bridge, adjacent to Lakeside Park.