UPDATED: One fatality after car ends up in Kootenay River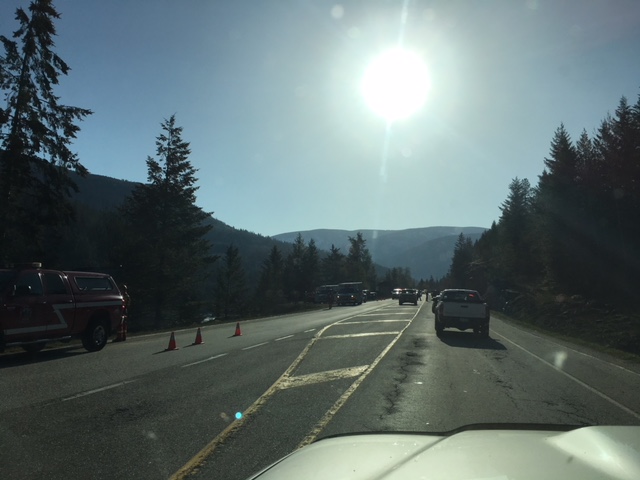 A Nelson man died Wednesday morning after the car he was driving left the highway and ended up in Kootenay River west of the Heritage City on Highway 3A/6 near Pacific Insight Electronics Corp. media reports said.
Nelson Fire Rescue said crews responded to a call at 6:52 a.m. of a report a vehicle over the bank and Kootenay River west of Nelson.
Both on duty members responded immediately followed by five additional off-duty members responding to the station.
"Upon arrival of the first crew, a vehicle was observed submerged in the river, 10 meters from shore," the media release said.
"Good Samaritans were on scene, performing emergency first aid to one patient."
Nelson RCMP Cpl. Derek Pitt said witnesses at the scene told police the vehicle involved had been travelling southbound when it suddenly left the roadway, travelled down the embankment, across the set of railroad tracks and entered into Kootenay River.
"Witnesses to the crash quickly jumped into action, entered the water themselves and pulled the unresponsive driver to shoreline where they began CPR," Pitt explained.
"Sadly, despite their efforts the man was pronounced deceased at the scene."
Nelson Fire Rescue's Rope Rescue team deployed a rope system to assist with movement of personnel on the steep embankment in the area.
Pitt said investigators have since positively identified the driver as a 70-year-old Nelson man. Police believe the driver was the lone occupant of that vehicle.
Pitt said the exact causal factors of the collision remain under investigation.
The BC Coroners Service is investigating but due to privacy will not release the name of the man at this time.
Anyone witnessing the crash is asked to contact Nelson RCMP at 250-352-2156.
Accident slows Wednesday morning commuter traffic on Highway 3A
A vehicle accident west of Nelson near turn lane into Pacific Insight Electronics Corp. slowed Wednesday morning commuter traffic on Highway 3A.
Emergency responders, including Nelson Fire Rescue, RCMP and Nelson Police, attended the vehicle accident.
Traffic was slowed considerably as Highway 3A was forced to single lane traffic.
More details when they become available.