Advertorial: Four Nations — a business that connects people to nature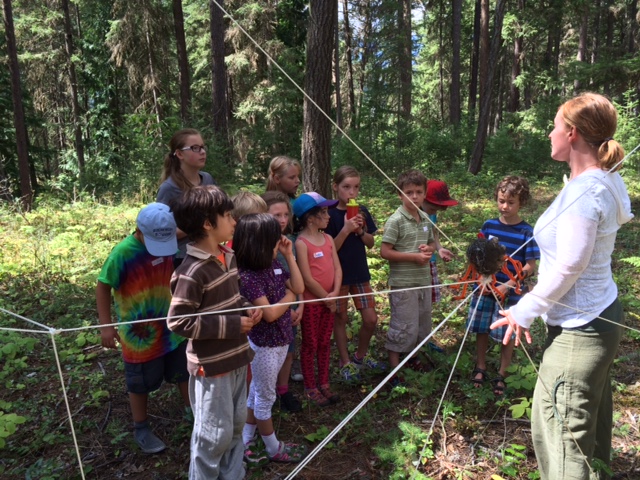 Everyone knows the Slocan Valley is one of the most peaceful and beautiful places in the world to reside.
But did you know that nestled in the picturesque valley are many successful small businesses.
One of those success stories is the Four Nations Coalition of Indigenous Medicines.
This new business, located in Vallican, is designed to provide Outdoor Cultural Education and Wellness Programs for the entire Kootenay region.
Nations Coalition of Indigenous Medicines is dedicated to offering teachings and services that enhance all people's connection to nature, their creators and each other.
The business has been operating in the Kootenays for the past seven years and has been contracted by Kootenay Lake and Kootenay Columbia School Districts for six years as well as working with other groups.
"Jessica Bamford, Mireille Evans and (Kathryn McCooeye) are all chanumpa carriers," Kathryn McCooeyeof of Four Nations Coalition of Indigenous Medicines explains.
"A chanumpa is a sacred prayer pipe from the Lakota tradition."
"Picking up the chanumpa involves taking sacred vows and pledges to serve All Life in all of our decisions," McCooeyeadds.
"That overarching law has a phrase attached to it which is" Mitakuye Oyasin," or "All My Relations. "It is the understanding that all of life is interconnected and everything each one of us thinks, feels, says and does impacts every single molecule under creation.
"I think to the settler scientists; they call it the butterfly affect."
Some of the services include:
Outdoor Cultural Educational packages for school students;providing hands-on, culturally relevant learning material and outdoor experiences for both children and youth.
We offerprofessional development packagesfor teachers, support workers and school district administrators. (we are also CBEEN and Wildvoice educators)
First Nations Cultural Safety training to professionals in the educational and social services sector
Outdoor recreational programs through an Aboriginal lens (eg. Archery tag)
Wellness workshops and private sessions that focus on traditional Indigenous principles and healing practices
Multi-cultural collaboration and partnership with community organizations and agencies
Four Nations is an on-the-ground contributor to our community.
"We help feed the poor, nurse the sick, midwife babies being born and as well as nurse the dying leaving this world," said Kathryn McCooeye of Four Nations Coalition of Indigenous Medicines.
"We help take care of the land, water and the creatures in nature and the people around us."
"We are called Four Nations because we are here to serve all colours of human beings and All Life."
In March of 2017, a private donor, believing in the Four Nations ideals, came on board to help expand the business to meet the needs of even more people in the community.
Four Nations is inclusive in that everyone is welcome to participate in our programs and to visit our facility. The business is all about inclusivity, integrity and partnership.
McCooeye said Four Nations is also a leading source for the New Curriculum in B.C designed by both the Ministry of Education and the First Nations Educational Steering Committee (FNESC).
"It was modeled after our traditional Aboriginal pedagogy; a pedagogy that we as First Nations peoples have been using successfully for thousands of years," McCooeye said.
"Come and learn how to imbed ourpedagogy from us."
McCooeye said Four Nations is governed by an Elders Advisory Council.
"Our council helps us set and meet our goals, but they also hold us accountable to ensure that our conduct remains within the framework of our traditional Indigenous Sacred Laws, and also the laws of the H'A H'A Tumxulaux (Sacred Land of the Sinixt)," she said.
"They are also a body of accountability for how and where we contribute funding back into our community as well as donations in kind."
Four Nations hopes to be able to operate all of our programs for free within the next three-year period.
"We are always on the search for grant funding opportunities, sponsorships and partnerships to assist us in providing the best service possible to our Kootenay population," McCooeye said.
"We offer a few complementary seats in all of our programs; for the under-privileged and ensure that we also support other community endeavors."
Why is Four Nations so important to McCooeye?
"Because I love life and I cannot stand by and do nothing while my relatives suffer, be it emotionally, physically, mentally or spiritually. I do it because I cannot stand myself when I do nothing to help."
Four Nations has a program currently happening Thursdays until late June at Millenium Park in Castlegar. The program, From Forest to Feast House, is an Ethnobotany class series for young women aged 15-28 years.
"Come and learn about traditional Aboriginal women's use of plants for medicine and food. Help host a traditional community feast with edible plants you harvest yourself!"
More information for this free event can be found at the Four Nations website.
Testimonial:"If you want an Authentic Cultural Education experience for yourself or your kids; go to Four Nations. The staff are so much fun! With the depth of the teachings; I always leave there feel inspired and hopeful for my children's future." Dr. Lindsay Morris Fish, Dipl. Dr TCM R.TCMP, B.Ed
Four Nations appreciates the support of sponsors as well as, "Thank you to Quilquin Moks (Sinixt nation) for sanctioning the operation of this program on Sinixt Tumxulaux."
Other sponsors include, Columbia Basin Trust, Kootenay Savings Credit Union, Valhalla Pure, Circle of Indigenous Nations Society, The Nelson Daily, West Kootenay Permaculture Coop and Indigenous Sports and Physical Activity and Recreation Council.