Selkirk College Partners with Rwandan Music School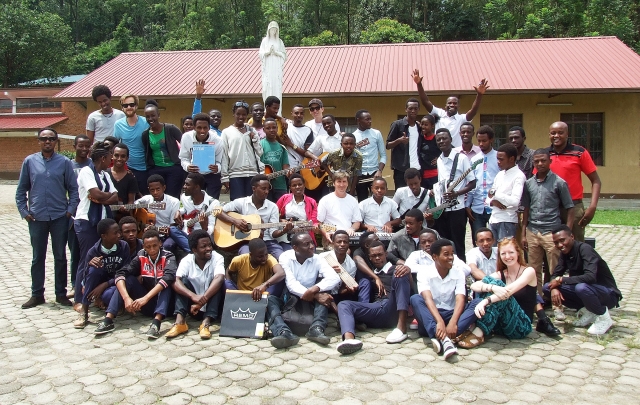 A blossoming relationship between the Selkirk College Contemporary Music & Technology Program and Rwanda's Nyundo School of Music has been formalized.
Earlier this spring, music program instructor Gilles Parenteau and three Selkirk College students traveled to the African nation to repay a visit that took place this past September when a group from Nyundo spent a few days at Nelson's Tenth Street Campus.
During their two weeks in abroad, Parenteau signed an agreement on behalf of Selkirk College with Rwanda's Ministry of Education aimed at promoting student and staff exchange, expertise on areas such as on-line training, joint field studies, internships, cultural tours and more.
"It started back in September with everyone taking a little bit of a leap-of-faith… which I'm so glad we did," says Parenteau.
The Nyundo School of Music is part of Rwanda's Ecole des Arts and was established in 2014 by the government to encourage confidence, musical expression, professional development, existing traditions and musical instruments, and transferable skills in all aspects of the Rwandan music industry.
The school is under the direction of Canadian musician Mighty Popo. A Rwandan/Burundian refugee who survived the horrors of the 1994 Rwandan genocide, Popo's family fled to Canada where he eventually established himself as one of the country's leading world music performers.
He won a 2005 Juno Award for World Music Album of the Year as part of a project called "The African Guitar Summit."
Mighty Popo and 10 of his students came to Canada in September and one of the stops was Nelson where strong bonds were developed with both students and faculty. A pair of concerts that brought together students and faculty from both schools raised money for advancing the exchange. The trip to Rwanda by the Selkirk College contingent was the next step.
Exploring a Nation in Transition  
Second-year music program students Amanda Jane Cawley, Blake Unruh and Mitchell Hahn were chosen to make the trip with Parenteau in late-March. In a whirlwind visit, Parenteau and the students were immersed in Rwandan sounds.
"Rhythm wise, it's another world there," says Parenteau, who has been an instructor at Selkirk College for 26 years.
"I have played music my whole life and it's so much different. Their strength is rhythm and to be there to see somebody teaching it was very valuable for both myself and the students."
Rwanda is still recovering from the tragic genocide that resulted in the deaths of an estimated one million people. Though still a poor country, both Parenteau and the students observed that Rwanda is a place of great hope for the future.
"I noticed throughout my time in Rwanda that the country is very at peace now, all is forgiven and there is no class division. Now everyone is simply Rwandan. They are an example for all of Africa," Cawley wrote her post-trip blog.
The country's only government-run music school is part of the recovery process and though the facilities are not the same as those on Nelson's Tenth Street Campus, Parenteau says what they have is a tremendous beginning.
"There's this concept that they need us. Well, that's not the case because it is very much a two-way street," says Parenteau. "We have more gear and better classrooms, but the quality of their teaching… these students don't need to go anywhere else. They can compete worldwide if they want to and partnerships like this can be a benefit. They have a great place to do really well and it's right at home."
In order to bolster the equipment supply at Nyundo, the Selkirk crew brought over guitar strings, drumsticks and harmonicas donated by Nelson's Eddy Music along with several second-hand guitars, pedals and computer screens donated by music program students.
Everyone Involved Gains Valuable Education
After an inspiring trip, Parenteau and the students returned to Nelson full of optimism for the relationship's future. The students provided a presentation on what took place during their journey which included a sharing the new rhythms they developed while working with Rwandan musical peers.
With support from the music program faculty and Selkirk College administration, plans are now being formulated for the next steps which could include a visit by a teacher and student this coming Fall, an album project, and a second trip to Rwanda by different Selkirk College students in Spring, 2017.
Parenteau hopes the community continues to support the relationship as it grows through different fundraising efforts that will be developed in the coming months. The veteran musician says a partnership like this has the potential to touch many lives on many different levels.
"I admire the Nyundo teachers because they are really trying to rebuild their country," says Parenteau.
"One teacher was in Belgium, the other was San Diego, Popo is Canadian and a Juno Award winner with a good career. They all chose to go back to their country to help rebuild their country. That's admirable and I would like our students to be part of that… it inspires us."
You can find out more about the Selkirk College Contemporary Music & Technology Program at: selkirk.ca/program/music.