Nelson Fire Rescue responds to gas leak on Perrier Road — elderly occupant removed from residence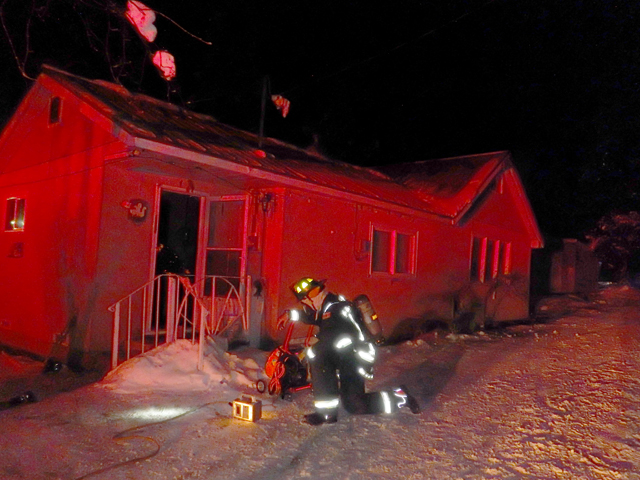 No one was hurt as Nelson Fire Rescue responded to what could have been a very serious incident New Year's Day on Perrier Road in the southern region of the Heritage City.
Assistant Fire Chief Michael Daloise said in a media release the Nelson Fire Rescue Services received a call at 8:41 p.m. of a report that vehicle struck a house on Perrier Road. 
Daloise said both on duty members responded immediately with four additional off-duty members from called out from home. 
"As the initial crew was leaving the station they were advised that the gas meter had possibly been struck as well," Daloise explained.
"When the first crew arrived on scene they discovered that the gas meter had been sheared from the house and that natural gas was flowing freely from the pipe. "
Daloise said after firefighters arrived, there were advised that there was an elderly female still inside the house. 
"The first arriving crew's primary objective was to control the flow of gas and conduct a search of the inside of the house to remove any occupants," Daloise said.
"The Nelson Police Department members evacuated the nearby residences."
Daloise said with the protection of a fire hose, firefighters were able to safely shut off the valve that was below meter to stop the flow of gas. 
He said there was still a significant amount of natural gas inside the house and the removal of the occupant was of high priority. 
"When the second crew arrived on scene to provide back up protection the first crew entered with their self contained breathing apparatus and was able to locate and remove the occupant to the care of ambulance crew," Daloise said.
Daloise said Nelson Fire Rescue responded to the incident with two fire engines.
Daloise said there was no injuries were reported as a result of this incident. 
However, damage is estimated at $10,000. 
The cause of the accident is still under investigation by the RCMP.
Nelson Fire Rescue would like to thank the Nelson Police Department, BC Ambulance Service, RCMP, and Fortis Gas for their assistance and response to this incident. 
Daloise said all agencies played an important part in the safe outcome.
Daloise said Nelson Fire Rescue Services would like to take this opportunity to remind everyone that if they smell natural gas to get out of the house and call 9-1-1.