Mallard's Team of the Week — Nelson Leafs Peewee Tier II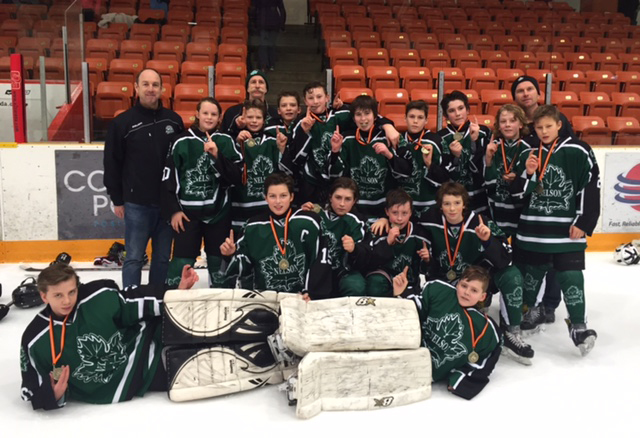 It was a golden weekend for the Nelson Leafs Peewee Tier II squad.
The Nelson Minor Hockey team knocked off previously unbeaten Spokane 4-3 en route to the Championship at the Trail Peewee Tournament Sunday in the Silver City.
Nelson lost its opening game of the weekend tournament in a wild, 9-7 shootout to Kamloops.
However, Nelson was able to bounce back by hammering Bantam Wildcats 7-0 and Portland 7-1 to qualify for the playoff round.
Nelson then got some payback against Kamloops, edging the Spoolmak squad 3-2 before knocking off Spokane in the final.
Mallard's Source for sports would like to honour the great effort of the Nelson Leafs Peewee Tier II squad with Team of the Week accolades.
The team includes, Joseph Surina, Ethan Lawczynski, Kaleb Percival, Bryce Sookro, Rhett Hamilton, Seamus Boyd, Noah Quinn, Dylan Mowery, Lowie Vreys, Joe Davidson, Jackson Harris, Ethan Bennett, Nick Francis, Tijs Vreys, Drake Proctor, Amran Bhabra, coaches Pete Quinn and Shandy Mowery, manager Lisa Quinn and Sandy Boyd.
Teams in the Tier II tournament were from Trail, Nelson, Kamloops, Salmon Arm, Spokane, and Portland, Oregon.