Locals thrilled at news Canada Post is putting brakes on Community Mailbox Program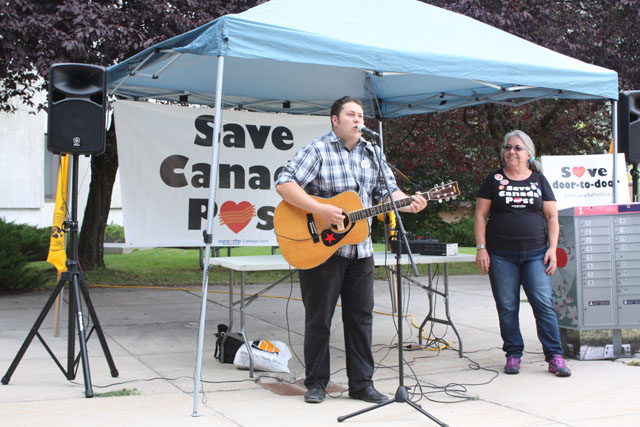 President of Canada Post Workers Union (CUPW) Local 790 Brenda Muscoby-Yanke was elated with a news release Monday that Canada Post has temporarily suspended future deployment of the program to convert door-to-door mail delivery to community mailboxes.
"We think this is great news for all Canadians let alone the Nelson workers as we were slated (convert door-to-door mail delivery to community mailboxes) for 2016," Muscoby-Yanke told The Nelson Daily Monday evening.
Door-to-door delivery has been on the chopping blocks since 2013 when in a surprise announcement Conservative Government said Canada Post would be phasing out the delivery option.
However, after the Liberals and leader Justin Trudeau, who campaigned if elected to stop the cuts to door-to-door delivery, won a majority government last week, it was believed there would be a change to the program.
And Monday, in media release, Canada Post confirmed the program had now been put hold "in an orderly fashion."
"This involves roughly 460,000 addresses across the country which are currently in the process to be converted to community mailboxes," the Canada Post release said.
"As a result, all conversions planned for November and December 2015 and those announced for 2016 will be placed on hold.
"Customers impacted by this decision will receive a letter within the next few weeks advising them of the status of their mail delivery service."
The news was well received by Muscoby-Yanke and her co-workers at the Nelson Post Office on Vernon Street.
"This is proof that collectively we can make a change and we are so happy to see that the Liberal government will and is stopping this action by Canada Post," Muscoby-Yanke explained.
"We believe that by implementing postal banking and financial services to Canadians will not only help Canadians but will continue to provide profitable income for Canada post and it will pay for door-to-door delivery to continue throughout all of Canada."
Canada Post said in neighbourhoods where the 10-month internal and community conversion process is complete customers will continue to collect mail and parcels at their community mailbox.
This includes customers set to begin receiving their mail and parcels in their boxes in October.
"We remain focused on maintaining reliable postal service to all Canadians without disruption," the Canada Post media release said.