It's not new, but the Civic Centre Arena is definitely safer, cleaner, better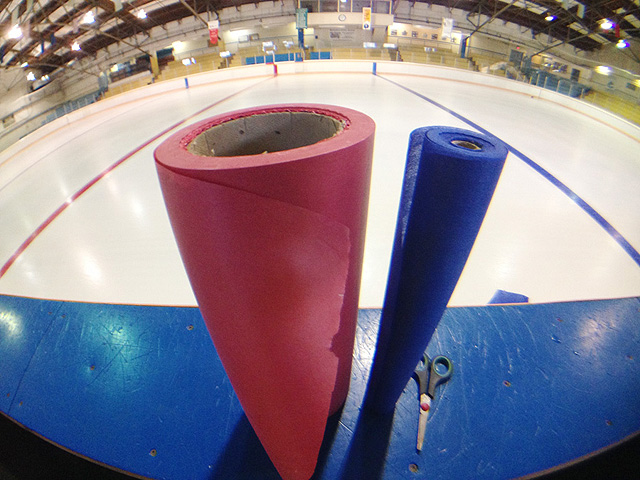 During a three-week span the Civic Centre Arena was transformed from a beat-up rust bucket to a new-and-improved facility able to safely meet the needs of the community.
"The arena was facing closure had we not tackled the issues head-on and that would have been a big disappointment to a lot of kids and adults alike," Nelson Mayor Deb Kozak said in a media release.
"There are a dozen user groups who use the arena — it's a busy place."
Built in 1935, and in its day was one of the most modern buildings of its time, the beloved building has undergone a comprehensive maintenance overhaul that included repainting, the closure of some areas and the addition of parking space to the arena's west end.
 
The upgrade addressed issues related to the application of lead paint years ago, and increasingly prevalent air-borne mould issues resulting from the fact the building sits on an open-earth foundation — a practice common to the construction of homes and buildings erected in the 1930s.
 
Mayor Kozak says the paint issue has been completely mitigated by the application of new marine-grade paint throughout the arena's dressing rooms and bleachers.
 
The mould issues have been addressed by sealing off parts of the arena where air quality was below acceptable levels, and by restricting public access to those areas. That includes crawl spaces and storage spaces on the arena's southern side.
 
"Mould is naturally occurring in all the air we breathe, both inside and out in some parts of the arena, mould particulate counts are in fact lower than the air outside," Kozak explained.
In its day, the Civic Centre Arena hosted numerous events, including the BC Winter Games in 1989, Circus acts as well as many high-level hockey games as the Nelson Maple Leafs road the Senior Hockey League trail in search of the Allan Cup.
 
Mayor Kozak says Nelson residents can rest assured that all Civic Arena is entirely safe for all uses.
 
She also shared thanks with City staff and the three local contractors that undertook the upgrade — High Five Maintenance, Cornerstone Contracting, and A&A Painting.
 
"The fact these workers were able to undertake such a sweeping improvement of the arena, in such a short amount of time is a real testament to their skills and commitment," says the Mayor.
"The community is very thankful for the long days and terrific work."