Terry Fox Run helps three-time survivour Sarah Quayle take a bite out of cancer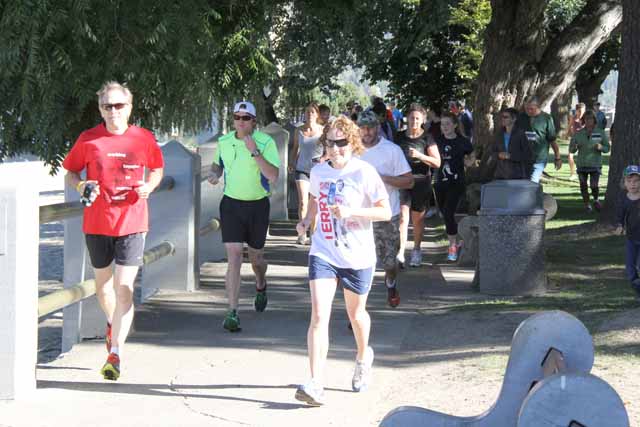 It's been 35 years since Terry Fox decided to run across Canada to help raise money and awareness for cancer research, and his legacy lives on today in the hearts and minds of millions.
The annual event happens this weekend, and will include a talk from Sarah Quayle, a three-time cancer survivor and member of The Kootenay Rhythm Dragons Dragonboat team.
The Kootenay Rhythm Dragons includes both survivors of breast cancer and friends, family and supporters.
Quayle was diagnosed with cancer three times in her life, at ages 30, 45 and 51-years-old; yet never let it get her down.
Quayle says that her upbeat personality and "just get on with it" attitude has given her a different outlook on what has historically been viewed as something you just don't talk about.
"Years ago, I remember, if we knew anybody who had cancer, nobody every had 'cancer', they had the 'C word'. Now because of high profile events like Terry Fox, it's on everybody. Nobody is shocked by it anymore," Quayle said.
She continued by saying that the Terry Fox Run and similar events help people to realize that they can support and participate.
"It makes families feel less alone, because they can see, A — What the public is doing and B — What their own community is doing. I feel as though everybody can do their part and the money that's been raised-really with very little effort by individuals- well, I wouldn't be alive without it."
Quayle also credits the Rhythm Dragons for helping her maintain a positive outlook despite being afflicted with such a devastating illness.
"When the Rhythm Dragons came into my life, I was three months post-mastectomy, and I don't what I'd have done without them. My physical and psychological recovery from participating in something like that has been amazing," she said.
"I think if I can just help people to keep cheerful and realize that there's help out there, let's do it."
As of Sept 4th, the BC and Yukon Terry Fox Run has raised $68,000 and has a 519 participants registered so far.
However, Donna White, the provincial director for the Terry Fox Foundation, told The Nelson Daily that the current numbers only represent a few people, and only those that have registered online, and "for some of those communities it is less than a half dozen which is not a reflection on how many will be there on Run Day and the amount of money that will be raised," so there will certainly be a lot more come Sunday.
Quayle closed with some kinds words about Terry and the Foundation, saying: "The Terry Fox Foundation is so impactive really, he's a super hero to Canadians and a brilliant athlete and the awareness he's raised and the foundation, with the fight against cancer, they're promoting finding a cure and extending people's lives."
Quayle will be speaking at the event on Sunday, to share her story and help raise awareness for continued research into an illness that affects so many people.
Nelson's Terry Fox Run will take place on Sunday, Sept 20th, at Lakeside Park at the Rotary Shelter.
Registration will open at 8:30 a.m., with the Run itself beginning at 9:30.
There will be 1km, 3km, 5km and 10km options also suitable for bikes, wheelchairs and strollers.
For more information please go to http://www.terryfox.org/Run/_BritishColumbia_.html
Story originated at The Nelson Daily.