Nelson Leafs open KIJHL season hosting weekend doubleheader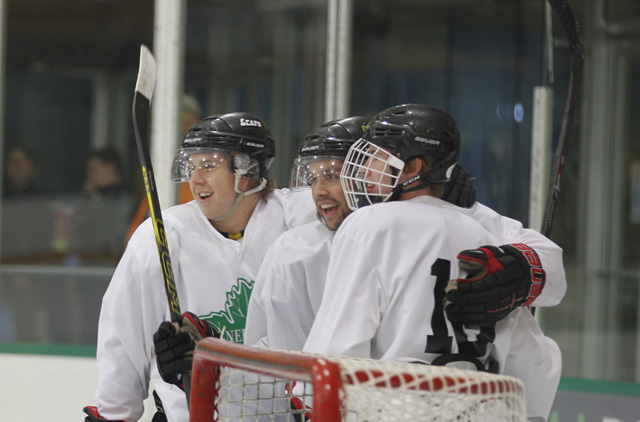 It's a busy time of a season for any hockey coach in amateur or professional.
And it's no different for Leaf boss Dave McLellan.
The second year skipper of the Leafs, who is back having a full offseason to recruit, has been working the phones continually trying to solidify the roster on the eve of the Kootenay International Junior Hockey League opening weekend.
"We've got 23 players carded right now," McLellan said as Leafs open the 2015-16 season at home with a pair of games Friday against Kelowna Chiefs and Saturday versus the Fernie Ghostriders.
"Basically the roster has been finalized . . . plus or minus one of two guys we've recruited still as Junior A camps."
Nelson enters the season after going 3-1 in the brief, but very successful, exhibition season.
After splitting with Beaver Valley, Nelson reeled off two straight wins over Castlegar — the second a 6-5 victory Wednesday in the Sunflower City.
"In the exhibition season we never really played with a full lineup on purpose, so (Friday) our fans will see our full roster," McLellan explained.
"We've got a good group of players here," he added. "Our defence is full of rookies and are still learning how to play but we're very happy with what we've got."
New players to the roster include forward Andy Fitzpatrick from Calgary, 17-year-old Max Daerendinger of Vancouver and netminder Joseph Barton of Victoria.
McLellan is please to see Jordan Davie in the lineup. Davie, a 6'1″, 195-pound bruiser, was acquired during the offseason from Victoria.
Local minor hockey players expected to fill out the roster include forwards Sam Webber, Nolan Percival, defencemen Aigne McGeady-Bruce as well as returnees Austin Lindsay, Brendan Smith, Tyler Fyfe and Blair Andrews.
McLellan was also able to convince trio of rising stars from Castlegar, Tanner Costa, Ren Mason and Ellis Junker, to join the Green and White.
However, training camp officially ends this weekend when the Leafs host a pair of KIJHL heavyweights.
"I go into every game thinking we're playing the best team in the league," McLellan said, who hasn't had a chance to scout the two upcoming opponents.
"That's the way I approach every game and I tell the players the same thing."
Fans will see if the busy offseason can transfer into the Leafs being one of those league's best teams.
LEAF NOTES: Season tickets are now on sale at Mallard's Source for sports, the NDCC Arena and during Leafs home games. For more information contact marketing@nelsonleafs.ca . . . . Nelson continues its home stand Friday, September 18 against Spokane Braves before heading for the road to meet Grand Forks, Sunday, September 20. Nelson concludes the first month of the season with a two-game road swing to Princeton and Osoyoos, September 25 & 26, respectively.