Kootenay Co-op celebrates 40-year anniversary as Nelson Commons project moves along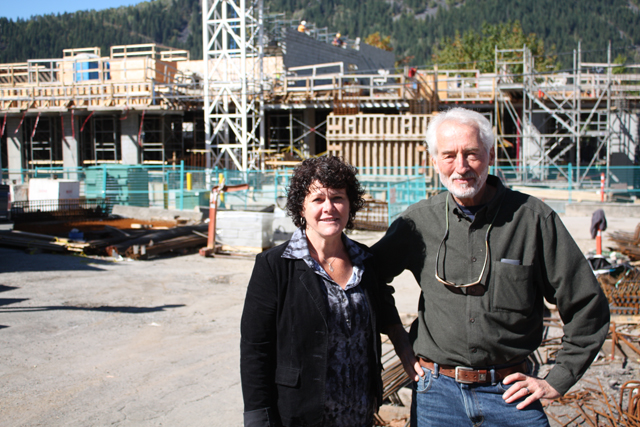 The 40th anniversary of the Kootenay Co-op is Wednesday, and despite a few minor issues is on track for next year's move to the new Nelson Commons.
The Annual General Meeting Wednesday — beginning at 6:30 p.m. — follows a dinner — starting at 5:30 p.m. — prepared by the culinary wizards from Selkirk College at the Tenth Street Campus.
The dinner will celebrate 40 years of the Kootenay Co-op, originally founded in June of 1975 by volunteers in the Slocan Valley.
As of Tuesday the event is now sold out said Paul Kelly, acting GM of the Co-op.
One of the big topics of conversation will be the move from the current location on Baker St. to the Nelson Commons in fall of 2016.
While there have been some minor stumbling blocks, on the whole it seems the project is moving along nicely with no major delays in the foreseeable future.
"With the type of stumbling that could take place in a development of this scale we're doing really well," said Jon Steinman, President of the Kootenay Co-op.
"The latest update that the board has received is that the builders are a couple weeks behind but nothing serious that they can't make up."
One problem that has arisen however, has been a larger than anticipated amount of contaminated soil.
"We had originally anticipated a small amount of contaminated soil based on the people we hired to do that work, and it turned out there was significantly more and that was a notable expense that was unforeseen," Steinman said.
However, it doesn't seem like this issue will adversely affect the development plans, and steps have already been taken to ensure this problem is solved quickly and in time for the big move next year.
"Financially the project is healthy, timelines are still on track for the condos to be ready and the store we're still antic a fall move in and we'll start fixturing the store and getting it ready next May," Steinman said.
Residential and commercial spaces still available
The Nelson Commons will also feature residential space along with commercial, and although interested buyers are snapping up condominiums quickly, there are still plenty available.
"We've got 37 sold and there's some pending sales," said Deirdre Lang, Project Manager for the Nelson Commons.
"We have about a dozen units left that are clearly for sale and a few in a grey area. What we have left is mostly two-bedroom and two-bedroom and a den"
Some commercial space is also still available.
We have pretty strong interest in our Hall Street commercial and we have a two story commercial unit for sale on Hendryx and Vernon and that's available," Lang said.
Co-op as success because of a great community
As for the Kootenay Co-op, the move to a larger, more modern building is a natural evolution for such a successful project.
President Jon Steinman speaks fondly of the organization, and it's easy to see he really believes in it.
"What makes the Kootenay Co-op such a unique organization is that it's owned by the community, all the people that use the store," he said.
"This is an organization that's been around for 40 years and so its success is because of every single person who has either been a member of the store or still is, and the contributions of volunteer board directors and all the suppliers."
Steinman highlighted the success of the co-op by comparing it to similar organizations across Canada and the U.S.
"There's very few who can showcase a food store like ours, especially in a community as small as Nelson. It is quite a unique place and I think and it's because of the people," he said.
Good news on the construction front notwithstanding, there was a bit of a hiccup earlier this year on the human side of the Co-op, with a controversy in April resulting in the resignation of two board members.
Those positions have since been filled, with two directors serving until the AGM on Wednesday where only one will be carrying on. There will be no election, and as for the reasons behind the resignation, Steinman was unable to provide details.
"There is no election this year, it's going to be by acclamation that all directors are appointed," Steinman said.
"As far as the controversy that wouldn't be something I can speak of at this point. The reason for their resignations would be entirely on their own accord," Steinman added.