Smoke from USA fills valley, West of Rock Creek burns out of control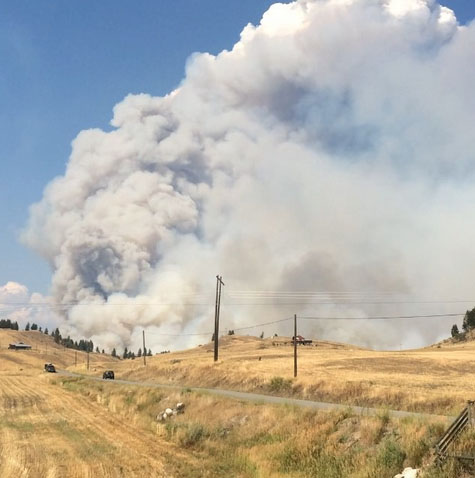 The ash and smoke seen hovering over Nelson Thursday afternoon is from fires in Washington State and Idaho said Fanny Bernard of the Southeast Fire Centre.
"There are fires burning in Idaho and Washington State, and the wind is just right to send ash and smoke into the valley," Bernard said.
However, smoke is nothing to what is happening outside Rock Creek, 136 kilometers east Kelowna where the West of Rock Creek wildfire is zero contanted and continues to burn out of control.
The wildfire has ballooned to an estimated 750 hectares from when is started Thursday afternoon.
Shara Cooper at the Boundary Sentinel in Grand Forks said the fire spread quickly and the immediate area by Hulme Creek Road was evacuated. 
The fire spread quickly north forcing people in the Kettle River Provincial Park to evacuate on foot and the evacuees were tactically evacuated by incident command.
More than 30 firefighters battled the wildfire on the ground with the assistance of six helicopters, three pieces of heavy equipment and two air tankers.
Cooper reported that residents on Christian Valley Road to Fiva Creek were evacuated. Evacuees are directed north, up the Christian Valley Road to Lumby.
Evacuees from Rock Creek to Westbridge are being directed to Willow Park Church in Kelowna on Hwy 33 .
Livestock is being received at the Rock Creek Fairgrounds.
Hwy 33 is closed between Rock Creek and McColloch Road and Hwy 3 is closed 2 km West of Rock Creek.
The highways are closed in both directions until further notice.
A Facebook site has been set up to help residents in the Rock Creek area affected by the wildfire.