Motorists urged to 'not stop and pull over' on Highway 3 near Paulson Pass wildfire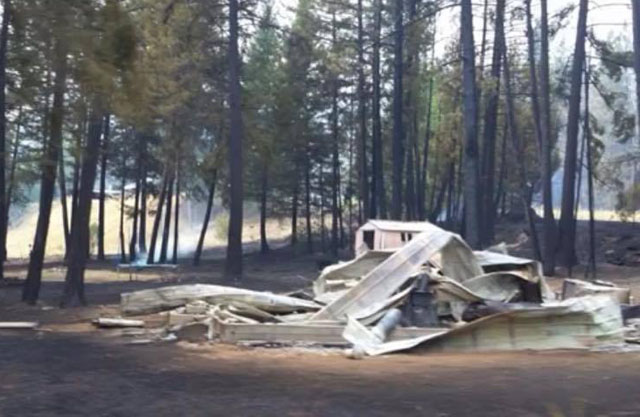 The BC Wildfire Service is advising motorists travelling the Blueberry Paulson on Highway 3 of an active fire 15 kilometers northeast of Christina Lake.
The lightning caused Paulson Pass fire, discovered Thursday (August 13) is now estimated at 260 hectares.
"Currently Highway 3 remains open, however (people) driving through the area, please do not stop and pull over," said a Southeast Fire Centre website.
"There are hazards present in an area of active wildfire."
Currently 12 firefighters are battling the blaze along with two helicopters and four pieces of heavy machinery.
The fire is zero percent contained.
The Southeast Fire Centre said the West of Rock Creek wildfire has claimed 30 homes and 15 other structures, the largest destruction of property this season.
The West of Rock Creek fire in the southeast, has burned more than 3,700 hectares, and is still zero per cent contained, despite the efforts of more than 100 firefighters, seven helicopters and several air tankers.
The Southeasts Fire Centre said over the next few days different aircraft including airtankers will be supporting control lines.
However, a warm drying trend may return over the next several days. This may cause an increase fire behaviour and growth.
The Regional District of Kootenay Boundary has amended the Evacuation Order and Evacuation Alert areas, effective at 4 p.m. Monday.
For more information on these orders and alerts, please visit: http://www.rdkb.com
As of Monday evening, Highway 33 between Rock Creek and Beaverdell was closed to through traffic due to smoke and the wildfire. There was no estimate on when the highway would reopen.
Monitor Drive BC for more information.
The Paulson Pass wildfire is one of 88 new wildfires in the Southeast Fire Centre since Thursday (August 13).
A total of 499 wildfires have occurred in the region since April 1, 2015.
Other wildfires of note in the Southeast Fire Centre:
The Mount Midgeley fire, west of Creston, covers about 332 hectares and is 10% contained. Forty BC Wildfire personnel, four helicopters and 10 pieces of heavy equipment are working on containment. This fire is highly visible from the community of Creston. No structures or communities are threatened by this fire.
 A fire burning five kilometres up St. Mary Lake Road, southwest of Kimberley, is estimated at 0.6 hectares. The BC Wildfire Service is asking the public to stay out of the area and avoid travelling where crews are working, including anywhere on St. Mary Lake Road.
The Southeast Fire Centre is reporting he Stickpin fire in the United States is burning near Grand Forks, seven kilometres south of the B.C. border, and is 0% contained and covers about 12,000 hectares.
The BC Wildfire Service has been in communication with the U.S. Forest Service since this fire exhibited significant growth and aggressive behaviour on Friday. There has been a decrease in fire activity since Saturday morning.
Officials from the BC Wildfire Service met with the Stickpin fire Incident Management Team today about possibly offering firefighting support, if required. Discussions are underway to assist our neighbours to the south on this fire. For information about wildfires in the United States, please visit:http://inciweb.nwcg.gov
The BC Wildfire Service encourages members of the public to report any new fires. To report a wildfire or open burning violation, call 1 800 663-5555 toll-free or *5555 on a cellphone.