Nelson plays host to BC Soccer Girl's Provincial B Cup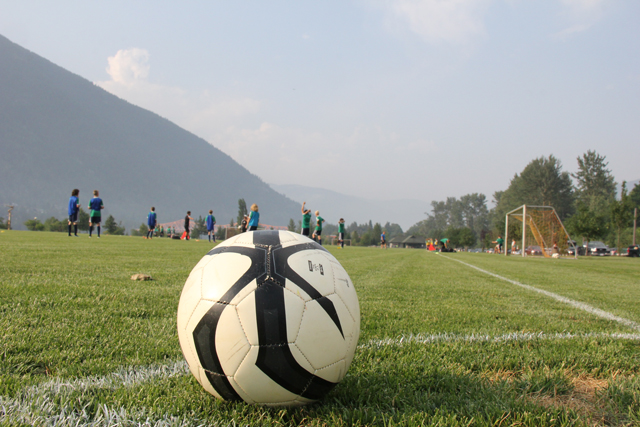 Organizers will be monitoring the heat, and smoke, from the local Sitkum Creek Wildfire when the BC Soccer Girl's Provincial B Cup comes to Nelson beginning Thursday at the Lakeside Fields.
Tournament Coordinator Kim Palfenier said officials are hopeful the city has seen the worst of the fire that began Saturday.
"The air quality was our main concern because of the fire but the air quality alert is worse in Vancouver than it is here so we're looking pretty good," Palfenier said on the eve of the tournament.
"(However) officials will be monitoring the smoke, warm temperatures and any thunderstorm warnings that may crop up during the tournament."
The four-day BC Soccer Tournament, hosted by Nelson Youth  Soccer, features age categories U13, U14 and U15.
The tournament begins Thursday through to Sunday with 24 teams competing in a full slate of games.
Each age division features eight teams from the various zones around the province divided into two pools of four.
The teams in the pools play a round robin with the winner advancing to the gold medal games Sunday against the winner of the opposite pool.
The second-place teams meet for the bronze medal while the remaining teams play for consolation rankings.
"(BC Soccer) officials will talk about how they'll proceed with concerns about the smoke and weather when they arrive," Palfenier said.
"It's starting to cool down, but I'm pretty sure they'll be water breaks during the games,"
This is the third time in Nelson Youth Soccer history the association has hosted the Provincial B Cup.
The inaugural event happened in the early 2000's with the last time being in 2009.
Palfenier, part of all three tournaments, said it's a bit of a crapshoot to see if there's any home field advantage for the Nelson teams.
"I think there's always the pressure being the host team but there's also the relief of being able to sleep in your own bed that compensates," Palfenier explained.
Nelson U13 Selects are the first team to take to the pitch Thursday at 11 a.m. against Kelowna.
At 1 p.m. the remaining two teams open play, the U15s up against North Shore while the U14s place Kelowna.
The complete schedule can be seen on the BC Soccer website.
The Opening Ceremonies go Thursday afternoon, beginning at 5:30 p.m. at the Lakeside Rotary Park.
All action takes place at the Lakeside Soccer Fields.
The finals are slated for Sunday.
GOALKICK: Nelson Youth Soccer also has teams competing at the BC Soccer Provincial B Cup in 100 Mile House and Penticton.