Fire season heating up throughout province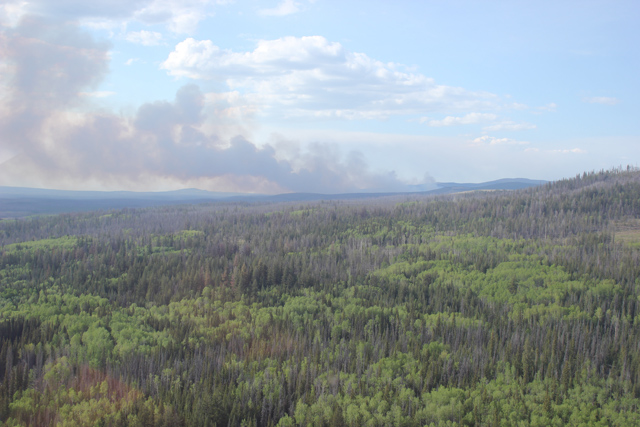 The Little Bobtail Lake wildfire – the first major wildfire of 2015 – has everyone on high alert throughout the province.
The fire, which has burned about 13,000 hectares to date, is now be tackled by round crews, supported by helicopters, airtankers and heavy equipment operators, are working around the clock to control the fire and protect homes, infrastructure, forests and grasslands.
The Wildfire Management Branch is fully prepared for this year's wildfire season, but B.C. residents and visitors need to be especially careful with fire use during hot and dry weather.
"Every summer, the risk of fire increases," said Premier Christy Clark.
"With many parts of the province facing unseasonably warm and dry weather, that risk increases even more – putting people's homes and lives at risk. This long weekend, please be mindful and take extra care with your campfires and barbecues."
Many regions of the province are seeing unseasonably high temperatures and dry conditions. Some parts of B.C. have already experienced "high" and "extreme" fire danger ratings – an early indication that we could be facing a busy wildfire season again this year.
The warming trend that has been drying out forest fuels and grasslands for weeks is expected to continue over the long weekend and into next week in most of the province. The long-term weather outlook for B.C. suggests that temperatures will be above normal in many areas this summer.
Small campfires are currently permitted throughout B.C., so long as people exercise caution and follow campfire regulations. The maximum allowable size of campfires is 0.5 metres wide by 0.5 metres high.
Larger Category 2 and Category 3 open burns are currently prohibited in the Prince George Fire Centre. Category 3 fires are also prohibited in the Cariboo Fire Centre.
The Kamloops Fire Centre will implement a prohibition on Category 2 and Category 3 open burning at noon on Friday, May 15. Information about burning and campfire restrictions is available online at: http://bcwildfire.ca/hprScripts/WildfireNews/Bans.asp
Almost half of all wildfires in B.C. each year are caused by people and these fires unnecessarily tie up Wildfire Management Branch resources. The B.C. government is asking everyone to do their part to help keep their neighbours and communities safe.
Recreational activities:
Heat from vehicle exhaust, fireworks, discarded cigarettes and sparks from equipment can easily ignite a wildfire when fire danger ratings are elevated.
Don't park your motorcycle, all-terrain vehicle or any other off-road vehicle on grass or in areas where the exhaust system is close to combustible material.
Use an approved spark arrester on your vehicles exhaust system to reduce wildfire risks.
Take appropriate precautions with all heat sources, including campfires, outdoor stoves, barbecues and smoking materials.
Ensure that cigarette butts are properly extinguished.
Campfire safety:
Campfires cannot be larger than 0.5 metres high by 0.5 metres wide.
You must maintain a one-metre fireguard around the campfire. This is a fuel-free area where all flammable materials (grass, kindling, etc.) have been removed.
Do not light a campfire or keep it burning in windy conditions.
Never leave a campfire unattended.
Make sure that the campfire is completely extinguished and the ashes are cold to the touch before leaving the area for any length of time.