UPDATE: Hunt scores, but Tigers drop opener to Hitmen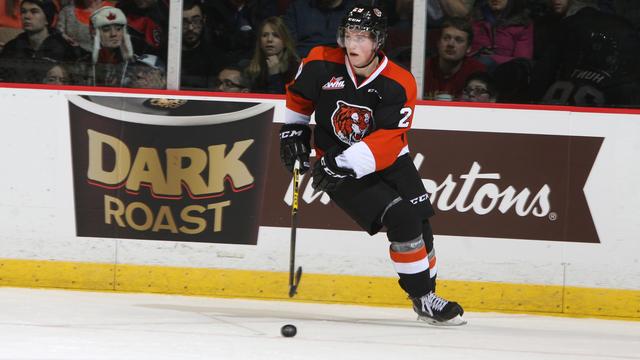 Nelson's Dryden Hunt scored once but the Hitmen replied with three of their own as Calgary posted a 3-1 victory over Medicine Hat Tigers Friday in the opener of the Eastern Conference Semi-Final at The Arena in Medicine Hat.
Calgary takes a 1-0 lead in the best-of-seven series with Games two and three set for Sunday and Monday at the Scotiabank Saddledome.
Game four is back in Medicine Hat Friday.
Calgary finished ahead of Medicine Hat in the regular season standings but Scotiabank Saddledome was booked for the weekend, forcing Game one to be played in the Hat.
In a game dominated by the Tigers, it was Conner Rankin and Vancouver Canucks 1st rounder Jake Virtanen giving the visitors a 2-0 lead.
Hunt gave the home crowd something to cheer for when his bullet shot with 10 seconds remaining in the opening frame gave the Tigers some life heading into the first intermission.
The goal was the second of the post season for Hunt.
The home side pressed for the equalizers, but Chase Lang silenced the crowd with a goal midway through the third period.
Nelson's Dryden Hunt moves up Central Scouting Service rankings
Nelson's Dryden Hunt is slowly, but surely, starting to catch the eye of professional hockey scouts.
The Medicine Hat Tigers sniper climbed 49 spots to #111 among North American skaters in the final Central Scouting Service (CSS) rankings.
Hunt, 19, enters the 2015 NHL entry draft as an over-aged player.
Hunt, who landed an amateur tryout with Carolina Hurricanes and played in the 2014 Traverse City NHL Prospects Tournament, is joined by teammates Matt Bradley and Nick Schneider on the CSS Final rankings.
Schneider has been ranked #9 among North American goaltenders while Bradley was ranked #126.
The six-foot, 200-pound forward, who came to the Tigers at the Western Hockey League trading deadline from the Regina Pats, has been on fire with Medicine Hat, scoring 36 points in 34 games.
Hunt, three-time winner of the Tigers ATB Financial Player of the Week, finished 13th in WHL scoring with 83 points in 71 games.
The Tigers begin second round play in WHL playoffs Friday against the Calgary Hitmen.
Medicine Hat eliminated Red Deer Rebels in five games with Hunt finishing with two points and one goal.
The series opens Friday in Medicine Hat due to a scheduling conflict at the Scotiabank Saddledome after Calgary finished a point in front of the Tigers.
The teams split the six-games regular season series 3-3.
The 53rd NHLEntry Draft will be held on June 26–27, 2015at the BB&T Center in Sunrise, Florida.