UPDATED: RCMP, Coroners Service, Fire Departments continue to investigate cause of Blewett fire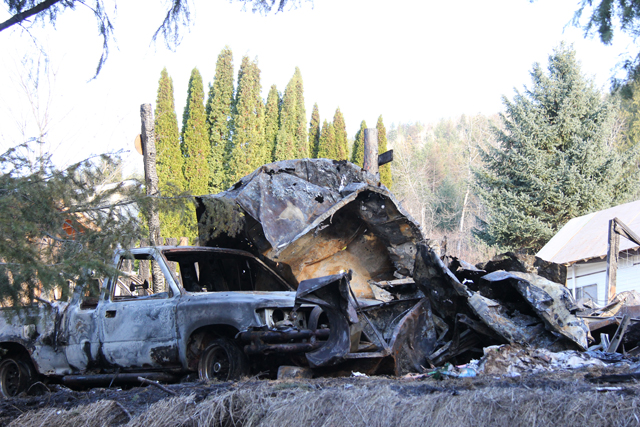 Nelson RCMP, B.C. Coroners Service the Blewett, Beasley and Nelson Fire Departments continuing to investigate the cause of a fire that claimed a life early Sunday morning said Sgt. Darryl Little media spokeperson for the Kootenay Boundary Regional RCMP.
Little said that at approximately 4 a.m. Sunday, a fire was reported in the 3000 block of Fofonow Road in Blewett, approximately 10 kilometers west of Nelson.
"The three fire departments attended to discover the house fully engulfed," Little explained in the media release.
"They eventually managed to bring the fire under control but not until the house was completely destroyed."
Little added an examination of the scene discovered an individual who had perished in the fire.
"A positive identification of the person has not yet been established with an autopsy to be conducted in the near future," he said.
"No cause of the fire has been determined as yet. Investigators from the RCMP, Nelson Fire Department and BC Coroners Service are continuing to sift through the rubble at this time in an attempt to determine it's cause."
Man dies in early morning fire on Fofonow Road in Blewett
RCMP is treating a fire that claimed one man on Fofonow Road in Blewett early Sunday morning as a crime scene.
The fire, starting at approximately 4 a.m. Sunday, completely destroyed the trailer on the property.
The area has now been closed off to public with police tape and is being guarded by a RCMP auxiliary officer.
Nelson Fire Department responded to the early-morning fire with on-duty members, who were quickly joined by additional members responding from home as well as was  firefighters from the Beasley and Blewett Volunteer Halls.
"Upon arrival of the first crew, the structure was completely involved in fire as well as multiple vehicles and outbuildings," said Nelson assistant Fire Chief Mike Daloise.
"The first arriving crew's primary objective was to prevent the fire from spreading to the neighboring properties."
Daloise said when fire crews arrived it was reported that there may have been people inside the burning trailer.
"Initial reports were that there was a possibility that there were two occupants inside," Daloise added.
"Subsequently one was later located in town, unfortunately the other individual was found deceased in the fire."
Blewett resident George Fofonow, who lives adjacent to the property, said he woke to the sound of a loud sound.
"I was going to bed when I heard a real loud . . . it wasn't a bang or a boom, it seemed like a loud slam," Fofonow said.
"I just wondered what the heck was going on next door."
Fofonow said it was very scary to see the blaze so close to his house.
"It was very scary," he said.
"All you're hearing was "pop, pop, pop" and I'm thinking what else has he got over there?"
The RCMP continues to investigate the cause of the fire along with the BC Coroners Office and Nelson Fire Department.
NFD responded with two fire engines, one tender truck and two utility vehicles.
Beasley and Blewett assisted with four pieces of apparatus.