Nelson's Julien Locke finds a place on medal podium at Senior National Cross Country Ski Championships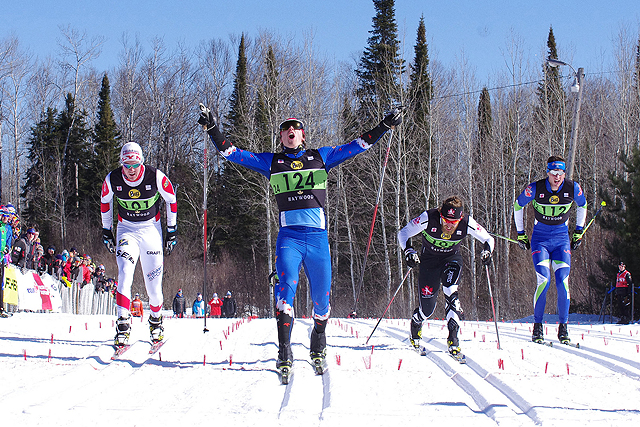 For Nelson's Julien Locke, good things really do come to those who wait.
The local cross country skier finally found a place on the podium recently after winning a silver medal at the Senior National Championships in Thunder Bay, Ontario.
Locke placed second in the in the classic sprint race, finishing as the top U23 skier.
"After some back luck this year, I am extremely happy to make the podium at the National Championships," a pleased Locke told The Nelson Daily.
"I have been in good shape all winter, but some races just haven't gone my way."
Locke, who was hampered by a cold at the recent Canada Winter Games in Prince George, did find a spot on the medal podium as he helped power Team BC to a bronze in the men's cross country team race.
However, the 21-year-old Nelsonite who started his skiing at the Nelson Nordic Club but now competes for Black Jack club in Rossland, finished 22nd in the 10-kilometer classic race and sixth in the men's 1.5 km classic sprint.
The result came on the heels of a crash landing in the final round at the World Championships trials.
The bad luck left Locke off the Canadian National squad that competed at the U23 World Championships.
That, however, is now in the past as Locke finally skied to his potential in Thunder Bay.
"The Nationals sprint is always a great race as every racer in the field is extremely motivated, and people take more risks than usual to give themselves a shot at success," Locke explained.
"For me, the day went quite well. My shape was good, skis were fast and everything came together."
Locke said the heats were fast right from the quarterfinals, which was just what the doctor ordered for the skier who loves competing on hard surfaces.
"I was able to ski tactically and conserve energy through the rounds, skiing only as fast as needed to move through," Locke said.
In the A-Final, Jess Cockney pushed the pace from the gun and attacked on the first hill to open up a gap at the front.
Locke said he was confident in his speed in the last half of the race so I played the waiting game and held back in third.
On the final, smaller climb, Locke made a move around the Norwegian skier to move into second and held that position until the finish.
"My podium was the first Senior Men's National Championships podium for BC since Black Jack's George Grey retired in 2011," Locke said.
Senior National Team member and 2014 Olympian, Jesse Cockney won the race.
Locke is currently in Sun Valley, Idaho for the US Super Tour Finals.
Obviously looking to build on the success experienced in Thunder Bay.