Nelson Transit celebrate Transit Driver Appreciation Day Wednesday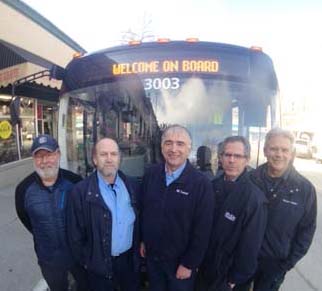 For hours on end, transit drivers manage to keep a schedule, check fares, give directions, announce stops, remember stop requests and more, all while safely maneuvering an extra-large vehicle through unpredictable traffic, adverse weather conditions and some really tight spaces.
 
The fact is, transit drivers don't have an easy job, they just make it look that way.
 
That's why bus riders all over North America are being asked to say thanks Wednesday, March 18, as part of Transit Driver Appreciation Day.
 
Kids can click on transitdriverday.org to download thank you cards right off the site – a great way to show your appreciation for your local bus driver.
 
Quick Facts:
Nelson Transit has nine regular part-time drivers and seven casual part-time drivers.
Nelson Transit divers drive nearly 850 kilometres within Nelson city limits every day, and carry an average of 843 riders per day to or from 85 different stops in town.
Nelson's very first transit service was provided way back in 1899.
 
Rider wanting more information on their respective bus route can go on Twitter and e-mail alerts by visiting twitter.com/NelsonTransit and bctransit.com/west-kootenay/schedules/alerts.