NDP MLA proposes new bill to help protect animals in distress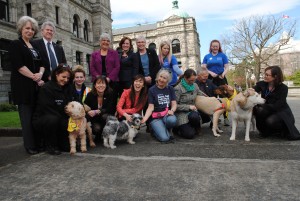 NDP MLA Selina Robinson introduced a bill in the legislature on Thursday that would help prevent animals from suffering or dying in vehicles without adequate ventilation.
The Coquitlam-Maillardville MLA proposed the Distressed Animals Act after the tragic 2014 case of the six dogs who died after being left in the back of pickup truck covered by a canopy for 40 minutes.
"After a number of incidents of animals dying while left alone in hot vehicles, it is time to act," said Robinson, who was later joined by advocates from the BC SPCA in support of the proposed changes.
"In 2013 the BC SPCA received 850 calls regarding animals left in hot cars and in 2014 they received well over 1,000 calls," said Robinson in a media release on her website.
"The BC SPCA only has 26 special provincial constables working across the province, and must liaise with RCMP and municipal bylaw enforcement to respond to these urgent calls.
"The Distressed Animals Act would amend the Community Charter and the Vancouver Charter permitting bylaw enforcement to seize animals in distress where there is inadequate ventilation in a vehicle and it amends the Motor Vehicle Act noting that a person commits an offence if they are transporting an animal without providing for adequate ventilation."
Robinson noted that the act has wide support at the municipal level and called on the B.C. Liberal government to move forward with it.
"These necessary changes would permit first responders to take immediate action and ensure more awareness and compliance so that animals need not die a horrible death while the driver just runs 'a few errands'."