RDCK Lakeside Drive Recycling Depot remains primary location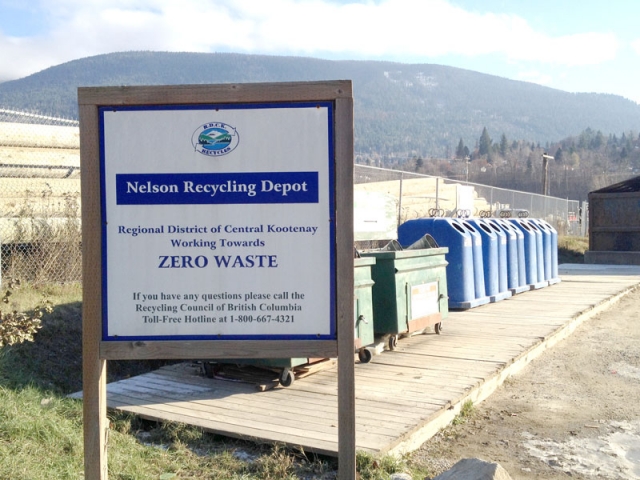 Regional District of Central Kootenay wants to remind commercial users large quantity recycling is acceptable only at the Lakeside Drive Recycling Depot (the Old Transfer Station) on the Nelson Waterfront.
"Having all businesses and residents with high-volume loads use the Lakeside Drive Recycling Depot decreases RDCK operational costs substantially and reduces congestion at the Grohman Transfer Station," Brittny Anderson of the RDCK Environmental Services Department in a press release.
Which is why the RDCK encourages residents with large-volume loads of recyclables to also use the the Lakeside Drive Recycling Depot in Nelson.
Some of the items now being accepted at Lakeside Drive Recycling Depot in Blue Bags include: Corrugated cardboard (flattened), boxboard; Newsprint, inserts, flyers; Magazines, catalogues, glossy paper; Mixed paper, junk mail, envelopes, etc. and metal food cans along with Corrugated cardboard (flattened), boxboard and Glass food jars.
Items the RDCK does not accept are:
Garbage and pet waste
Organics
Organics
Polystyrene or styrofoam
Window Glass or mirrors
Drinking Glasses
Pottery or ceramics
Milk Cartons or waxy cardboard
Light bulbs
other materials managed under product steward programs
The new Grohman Narrow transfer station, located above Pacific Insight on Highway 3A west of Nelson and in use since July of this year, currently does not have the room to accept large quantities of recycling.
Anderson, said hours of operation at both sites for the public are Monday to Saturday, 8:30 a.m to 4 p.m.
The RDCK would also like to stress both sites are not open outside the allotted hours of operation.