Municipal Election 2014: Area F candidates want your support Saturday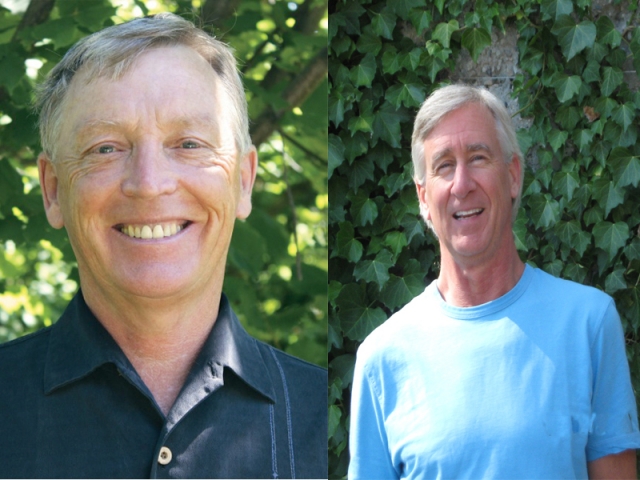 Retired teacher Tom Newell and Kevin LePape battle it out to see who will replace Ron Mickel in Area F — Beasley, Taghum, Willow Point, Nasookin, Grohman, Crescent Beach, Sproule Creek, Six Mile and Bonnington — in the upcoming Regional District of Central Kootenay elections Saturday, November 15.
The now retired LePape was born and raised in Montréal. For 40 years he was self-employed in packaging, warehouse equipment sales and distribution.
He has lived in Nelson for almost six years after visiting for many the Heritage City for many years — the last five on the North Shore at the end of Johnstone Road.
LePape enjoys skiing — alpine and Nordic — cycling, hiking, paddling as well as rescuing and rehabing dogs.
LePape prides himself on being a "hands-on, action-oriented, positive solution seeker" with a "highly developed internal (BS) meter and extremely low tolerance for self-serving hypocrisy."
"I mean what I say, and I say what I mean," he said.
Newell is also retired having spent many years in public education as a teacher/counsellor and most recently as the President of the Nelson and District Teacher's Association.
As well as being part of the School District #8 Budget Committee, Newell also helped manage 700 units of social housing with the BC Housing Management Commission.
Newell has spent the past 25 years as a volunteer, managing the Heddle Road domestic water system with the Six Mile Water Users Community.
The Nelson Daily contacted both candidates with questions to help readers decide where to mark the "X" at the polling station Saturday, November 15.
The Nelson Daily: In your area, what do you think are the most pressing issues and, if elected, how will you address them?
Kevin LePape: The most pressing issue in Area F is the financial burden coming from the requirement to bring small water systems into compliance with provincial law.
Because of this it is most important for the RDCK to hold the line on taxation so as to not add to the burden. Fire Protection is in excellent shape and must be maintained at that level.
Resource Recovery is also in great shape and should yield savings in the near term. If savings can be realized anywhere then they will be redirected to improve services without tax increases and Fire Protection will be the first priority.
Tom Newell: These issues are not rated in order of priority. This list is not exclusive but rather a representation of a slice of the area F Director's role.
Supporting the many many small water user groups in our Area.  These groups struggle to meet the IHA requirements for potability standards and the costs of these upgrades, without government support, is prohibitive.
My approach will be to:
Lobby all levels of senior government to develop grant structures and to modify tax rules to ensure that we are on a 10-20 year plan for full potability. (I am currently secretary of our large water users group on the Heddle Road bench so I know the challenges of this issue first hand).
Scour all budget lines to find money that can be re-directed to support these water user communities.
Partner with IHA, the Province and other agencies to use all resources and expertise to find a workable long range plan to upgrade these systems.
Developing a long-term plan in partnership with adjacent jurisdictions and governments to protect the quality of Kootenay Lake. I believe that the referendum in our neighbouring areas to create a fund that will analyse our lake and highlight those most sensitive areas and ensure that damaging activities in those areas is eliminated, is something that our Area should partner with. We must go beyond simple rhetoric on this matter.
Further to the issue above re lake protection, we must ensure that all septic systems are not polluting our lake. By monitoring our water quality, we may be able to identify those failing systems and support owners to improve their systems.
We must find a boat launch area for the west side of area F. I want to support a partnering with Area E (as is done between Beasley and Blewett Fire Services) to ensure that our west-side residents have reasonable access to our lake.
Further to the point above, our recreational areas in Area F must be maintained and improved. People visit and move here (which is a huge component of a diverse economy) in large part for these amenities.
The Nelson Daily: The regional district is going to have some upcoming heavy bills with the HB mine site remediation and the Nelson and District Aquatic Centre pool renovations. What other big ticket fixes can you foresee and how do you plan to pay for them without raising taxes?
Tom Newell: I have highlighted a couple of these issues above. We must take full advantage of all granting opportunities.
My goal is to hold the tax base as it is and to scour each budget line for savings so that the current taxes can be best directed to these major spending requirements.
Furthermore, we must lobby senior governments to amend their tax structures to stop the incessant downloading of costs onto the property tax base.
Kevin LePape: The renovation of the NDCC and the repayment of borrowed funds over the next five years has already been incorporated into the financial plan.
That said I will advocate for reevaluating the plan in order to ensure that the critical elements will be completed in the most efficient manner and if possible some non-critical elements may be deferred.
There is no need for future tax increases for the NDCC renovation because we were already hit with a huge increase two years ago (when the ceiling collapsed) and that increase was never rescinded.
The RDCK is currently in a legal action against Teck with regard to the HB tailings pond remediation costs and I believe Teck will honour their responsibilities under the mining act.
The Nelson Daily: Water quality is an issue for many RDCK residents on their own water systems. What are you prepared to do to help them remove boil water advisories or water quality advisories if elected? 
Kevin LePape: Water systems are the #1 issue as I've stated before. To better serve the citizens of Area F I have, at my own expense, recently attended a daylong symposium put on by the BC Small Water Users Association.
I met there with industry representatives and IHA official. I have taken many steps to educate myself on all aspects and the broad picture in order to know the options for small system users. It is their choice as to how they wish to proceed but I can provide information and strategies.
My first task as Director is to personally make a detailed inventory of systems, their respective status and their strategy in the near and medium term. That this has not been done is typical of the lack of assistance to small systems to date.
It is entirely necessary in order to plan a timeline to maximize grants to assist those that intend to make the significant investment required to comply.
Tom Newell: See answer to pressing issues.