Valerie Warmington, city council candidate, on social wellbeing, economic diversity, and the environment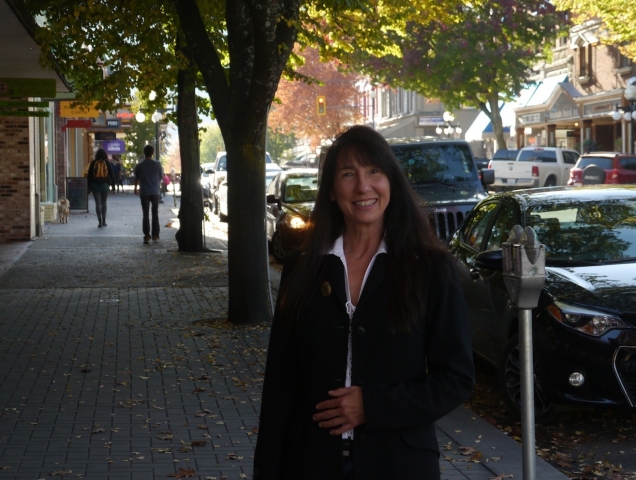 This Q&A session with council candidate Valerie Warmington is the fifth in a series with candidates for Nelson City Council in the November 15 municipal election. Previous articles have featured council candidates Anna Purcell, Charles Jeanes, John Paolozzi, and Michael Dailly.
Others running for the six seats on council are Jason Peil, Janice Morrison, Jeff Shecter, Brian Shields, and Justin Pelant along with incumbent councillors Bob Adams and Robin Cherbo.
Valerie Warmington moved to Nelson in 2007 after a decade of running landmine removal projects in numerous countries recovering from war and conflict. She acted as a Canadian delegate to the United Nations on several occasions negotiating on arms control initiatives. 
She currently works as Executive Director of Kootenay Kids Society and is Board Chair for the Oxygen Art Centre.  She also sits on many local committees concerning arts, culture, and social well-being, with a particular focus on representing the interests of families with young children.
Why are you running for council?
I have experience and background that would be relevant to the position, and an interest in it. The more I looked at it this, the more I thought this would be very interesting as well on a personal level.
It is the community engagement that is front and centre for me. I think council is more and more going to be involved in issues that may typically have not been council issues in the past, given the changing trends in the world, certainly in provincial and federal politics. And we already see that this year, where council members have been attending more and more of the same committees that I sit on, and getting more involved in issues around social wellbeing. These are things normally taken care of by provincial and federal governments. I think the municipal mandate is broadening.
What would your priorities be as a councillor—what do you think needs to be looked at or worked on?
I think economic prosperity and economic growth is very important. We are seeing issues of poverty coming to the fore increasingly. There are two ways of going at that—you can provide more charity or you can create an environment where people can better help themselves, and I am in support of both, but I would like to focus on bringing economic prosperity to our city and region in order to enable people to care for themselves.   
What does bringing prosperity to the region mean? How do you do that?
It means having a more diverse economic base, looking for new opportunities to encourage business people and entrepreneurs to the community. I am committed to the local non-big-box-store approach that Nelson has. I certainly would not want to change that. It is a unique drawing point for new residents and tourists.
One of the best ways to attract entrepreneurs and new businesses to Nelson is to ensure that our city remains a great place to live.  To me, that means a place with a strong sense of community that still welcomes diversity, a place where arts and culture thrive, and where we have a strong economy dominated by locally-owned businesses. 
I have been talking to some outdoorsy people who say there are all these big companies that come here from the coast for festivals like Coldsmoke and Fat Tire, and those businesses were based at the coast because that is where they have needed to be. But with the new broadband the potential is for them to be based here where the lifestyle suits their business and we could encourage that.
What other priorities would you have?
Council has laid the groundwork for more fossil fuel-avoiding developments, and clean energy sorts of initiatives. I see there is a policy framework now that supports that, and I think it is incumbent on an incoming council to more aggressively pursue some of those approaches. I think clean energy offers lots of opportunities for entrepreneurial innovation in our community, and I would like to explore that.
My priorities are also social wellbeing. All these committees I sit on definitely give me a sense that there is a need for community support and that people are struggling, that working families are not able to make ends meet. This is an important area for council to continue with. It speaks to our values as a community, even if it means council speaking out loudly in advocacy to the provincial and federal governments.
One interesting thing council is involved in right now is a community consultation on access to food and sustainable food production, which is an excellent direction for our council to be going.
On social issues, we are not immune to the problems our counterparts in big cities face. The nice thing about being in Nelson is that as a smaller community we have a better ability to define our values and develop programs that support them.
What are your views on growth in Nelson?
It is a balancing act: we want to preserve the community nature of our city, and the slower, less big-city feel, but at the same time we also want to keep people coming here and we want to have these young families stay, and the only way we can have people stay is to give them someplace to live. Clearly we need some development. I am not in favour of just development for development's sake.  It needs to be thoughtful, in keeping with the plan that city council has put in place. But I do see it as a necessity for the health and wellbeing of this community.
What do you think the current council has done well?
They have done a good job of putting in a policy framework that promotes reduction in greenhouse gas emissions for the city, and that also allows us to develop in ways that reduce our reliance on fossil fuels. So they have done a great job of thinking through how we want to develop and grow as a community. The new zoning bylaw is reflective of that, and the new waterfront development plan. They have done a good job, and it has been a balancing act for them.
What could they have done better?
Perhaps in finding alternative ways to engage the community in some of these discussions. I think in some instances people feel they have been left out of the discussion. I mean, council meetings are open for people to come to, but it is not necessarily a convenient way for people to participate, and it is not always possible for people to speak at them. You can listen but not engage. So particularly on divisive issues it would be nice to see some community forums where people can actually come and participate in the discussion. I would like to see more of that.
Council has produced some very good documents that would be of interest to the community. The annual report is excellent, but I don't think it was distributed as far and wide as it could and should have been.
Premier Clark went to the Union of B.C. Municipalities conference recently and said wages at the municipal level are running much higher, and increases are bigger, than at the provincial level. She was not happy about that. What to you think?
I read Michelle Mungall's article about this, and she pointed out there are different responsibilities for different sizes of cities, and to be fair I don't know what the wage gap is, but it is not a simple comparison, we need to look at the responsibility and the work load and the qualifications.
People are sometimes surprised when they learn that somewhere between 70 and 80 percent of the municipal budget in Nelson goes to staff wages and benefits.
I think that is true of most organizations. In organizations I have been involved in that is true, so I don't think that is out of line.
What would you like Nelson to be in 20 years?
The same character—slower than in the big cities—and still a dynamic and vibrant place. Also if we are going to continue to be supporting all these families with young children we are going to have to have some growth to support them, but I would like to see it as very community oriented development, and I think of Vancouver several decades ago where it was really built around small interconnected communities, that came together to make a great whole, and I would like to see that for Nelson.
What should Nelson avoid?
We should avoid this trend toward income inequality that we are seeing at a global and national level and in our communities. It goes back to what we value as a community and how we want to treat every resident, so I am worried about that. I see it happening a little already.
We have a need for additional services in town and when we request additional funding what we get from provincial and federal governments is that there is no money left, no money in the pot to meet the needs of everyday people. Where is that money going? We are a prosperous country, there is a great deal of wealth and it is not being distributed very equally right now. It is something I would like to see us use as a lens to look at decision making on council through these global issues, to use that lens. I tend to be forward looking in terms of what is coming down the pipe and what we need to shore up, to make sure we are not adversely affected.
I don't think we are immune to the effects of provincial, federal or global trends. Foresight and planning could do a lot to preserve what we love about our community and to keep its momentum going into the future.  
Global warming is one of those things, and the better we anticipate and prepare for it, the better our community will be overall.
What are your thoughts on transportation and traffic in Nelson?
It seems as though the recent changes to transit have helped in some ways. I am hearing there is some concern within Nelson that the decision-making is not within Nelson any more but is more regional, and that some needs in the city may have been overlooked as a result.
I think there is space for council to consider those needs and to take it forward to the regional level to talk about that. And I think the better our transit system is, the less we will see cars downtown and that would be good. There are lot of cars these days and it is difficult to park, but I also understand that people are busy and the hill is difficult for many. I think one thing that would help is to have pedestrian friendly areas and areas that are connected with pleasant walking opportunities, that would help people to leave their cars at home or at least once they are downtown to park them and leave them there.
I think it is it important because without transportation people are left out of city life. There are lots of challenges but they are not insurmountable, and we should be innovative in our thinking.
Do you agree with the dog by-law?
It is probably worth revisiting. I am hearing that this is important and divisive. This is one of those issues where maybe some of this more participatory community liaison would serve us well. This is actually a lot of issues wrapped up into one ball, and it may be useful to pull some of it apart and get some community input on various aspects of the problem. It is a complex issue because there is how the store owners feel about it, there is how people walking on the street feel about it, dog owners, tourists—each person has a different perspective, but I think we could come to some agreement that is less divisive at least.  The most important thing is that everyone has been heard and they understand the rationale behind the decision being made. When people don't understand why it has been made, or the decision doesn't match the question, that is  when problems come up.
What do you like the most about Nelson?
Our beautiful environment. The arts and cultural community is vibrant and diverse and exciting. There are so many young families are here—look around at how many strollers are being pushed. The diversity, age diversity, and different opinions, we have people from so many different economic sectors here, people who work on the environment, people who work in business, in social services. I think one of the most impressive things when I first came to Nelson was the range of services available here, and businesses, for such a small city, we have something of everything. That is what I mean by diversity. So often you go to a small town and there will be something missing—a theatre or a certain type of shop—and I can't think of something we are missing entirely here.
Bill Metcalfe is a freelance journalist who covers Nelson city hall for The Nelson Daily. To receive a regular twice-monthly email with links to his most recent city hall stories, send a request notification to billmet4@gmail.com.