Renovations to Queen Elizabeth Park on schedule — facility ready for baseball in spring of 2015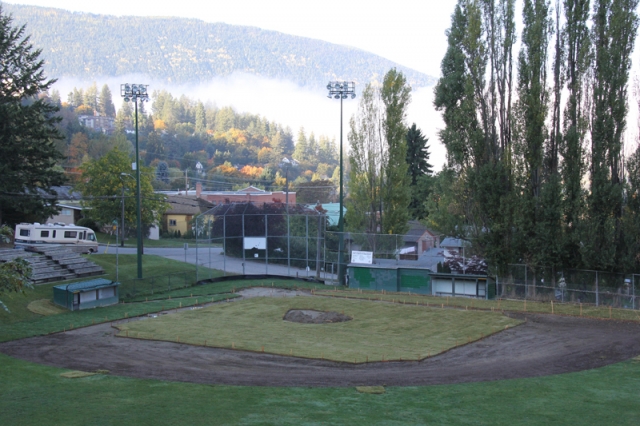 The sound of "Play Ball" is going to have a different ring to it when minor baseball resumes in 2015 following the completion of renovations to Queen Elizabeth Park.
The main park for the Nelson and District Baseball Association and L.V. Rogers Bombers Baseball is getting a complete overhaul of the diamond — a project that should have the park ready for play in the early spring.
"We have removed about six inches from the top of the field and replaced it with better top soil," said Larry Martel of the NDBA.
"The sod was placed on the infield and around the outside of the diamond.  Crush shale that we're bringing in from Cache Creek, will fill in the base paths, pitching mound and around home plate," Martel added.
Martel said the bulk of the $20,000 to complete the upgrades of Queen Elizabeth Park have come from provincial grants applied for during the past couple of years.
The money is used to pay for materials and contractors with the majority of the work being done by Martel, David Gray, Roger Aubert, Stephen Forte, Corbin Comishin and a few enthusiastic NDBA players.
"The new and improved diamond will be ready for the early spring," Martel said, adding a new irrigation system has been installed by the City of Nelson.
"Not only does Nelson Little League Baseball use the diamond but so does the high school and slow pitch league and many people use it for evening and weekend pick up games."
Martel said the NDBA would like to erect a 25-foot high fence in right field to stop balls from getting caught up in the tall grass.
"This is short right field distance and the wall will keep the balls from being lost on the bank," said Martel.
"Fenway in Boston has a wall so we will make a Nelson equivalent to the Fenway green monster and the plan is for advertising on the wall so that will pay for itself."
Martel said NDBA has seen an increase in registration during the past four years.
He said therefurbished diamond at Lions Park for the younger players as well as improvements to Queen Elizabeth Park should help the kids enjoy the game of baseball even more.
"Other than evening vandalism, like removing the post and string we used to mark were the bases go, the project is coming along very smoothly with the help from a few 14-16 year old baseball players," he said.