Police ask for more staff, biomass energy for Nelson moves forward, greenhouse gas reduction project enters second phase, sustainability awards jury named-- Nelson City Council October 20, 2014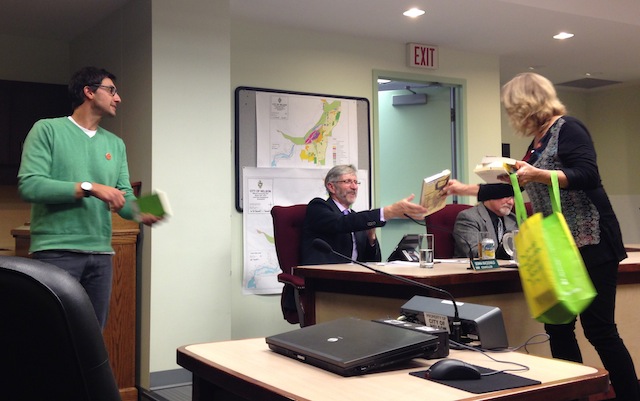 The following is a summary of the proceedings of Nelson City Council meeting on October 20.
Nelson police ask for more staff 
The Nelson City Police (NCP) is requesting an additional $311,00 for 2015, an increase of 10.2% over the previous year's budget of  $3,060,229. The increase would cover the cost of two additional police officers and an adminstrative staff person.
Nelson is one of 11 municipal police forces in B.C.  The Police Act requires that municipal police forces present to city council a provisional budget before November 30 of each year.
Chief Wayne Holland's justification for this increase included the following points:
Calls are up 10% over last year

Nelson has one officer per 639 people while the average for B.C. is one officer per 547 people.
The police budget has increased an average of 2.88% per year for the past eight years, while wages and benefits for police have gone up 28%.
There has been no increase in the number of officers from the current 17 in 20 years and no increase in administrative staff in 30 years.
Dealing with people with mental health issues takes up an increasing amount of police officers' time.
Twenty-two percent of each tax dollar in Nelson goes to policing. According to city staff, policing's share of the city budget has been about 15 to 16% since 1983, in line with many other communities.
Holland used Central Saanich (population 16,172) and Oak Bay (population 17,910) as comparable communities and showed that Nelson lags behind them in staff and resources.
Chief Financial Officer Colin McClure pointed out that budgeting for the police department is difficult because the police union has been without a contract for more than two years.
The police board's full presentation is attached below. It will be rolled into the city's general budget deliberations in the spring of 2015.
Related stories in The Nelson Daily:
Nelson Police's 'No Call Too Small' Policy—Out-of-Date Luxury or Progressive Community-Builder? (November, 2012)
Nelson Police asks council for first increase in staffing in 18 years (November, 2012)
Mayor wants to change process for bargaining with police and fire unions (July, 2013)
Sustainability Awards jury named
The jury members for the 2014 Sustainability Awards are 
Stephanie Fischer– cultural sector
Dan Woynillowicz– environmental sector
Jeff Nield– economic sector
Councillor Robin Cherbo– social sector
Rick Nixon– sports and recreation sector
Nomination forms for the awards are available on the home page of the City of Nelson's website. The deadline for nominations is November 3.
Greenhouse gas reduction plan moves to new phase
Fiona Galbraith, the city's corporate energy coordinator, appeared before council to talk about the success of the 2010 to 2014 Greenhouse Gas Reduction Plan that has seen the city reduce its greenhouse gas emissions by 25% over that period. Those details are outlined in the first of the two Nelson Daily articles linked below.
The greenhouse gas plan applies to city operations such as buildings, vehicles, lighting, and waste water, and not to businesses or residences.
The 2015 to 2020 phase of the plan would see greenhouse gas reductions of a further 10 to 15%. The details of the first phase accomplishments and second stage plans are attached below.
Related stories in The Nelson Daily:
Nelson is a municipal leader in carbon emission reductions, say city staff (January 2014)
Nelson Gets National Recognition for Emissions Reduction Plan (April, 2012)
Update on using biomass energy in Nelson
A year ago, the city received the first phase of a consultant report recommending hot water biomass energy (from burning wood waste) as a method of creating an energy system in Nelson in which selected parts of the city would be heated by local renewable energy.
Now the final report is available. The city's Alex Love told council the report further justifies biomass energy as the most effective possibility for Nelson, and estimates the cost at a range from $2.3 to $6.3-million, which he said would produce payback in energy savings over a 16 to 30 year period.
Love said the group of buildings being considered is a cluster consisting of the community complex, the civic area building, and the curling club.
The next steps will be refined capital cost estimates and more engineering studies, although he gave no dates or timelines.
Related story in The Nelson Daily:
New report recommends heating Nelson with hot water biomass energy (November, 2013)
Bill Metcalfe is a freelance writer who covers Nelson city hall for The Nelson Daily. Twice each month he sends out an email with links to his three most recent city hall stories. If you would like to be added to that email list, send a request to billmet4@gmail.com.