Jackson's Hole, Innkeepers and Dirty Dozen all claim Nelson City Soccer titles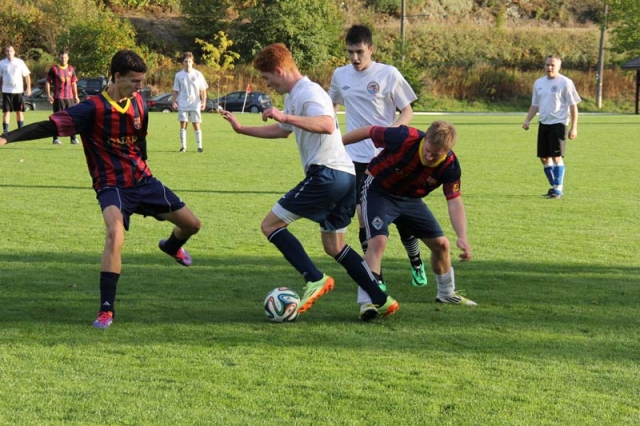 Jackson's Hole, Innkeepers and Dirty Dozen all came away with the hardware as Nelson City Soccer League culminated play with Championship Weekend at the Lakeside Pitch.
In the most lopsided contest, Innkeepers made it look easy riding the shutout goalkeeping of Mike Precious and a three-goal second half, to dump Kootenay Co-op 4-0 in the Leo's Men's Open League Final Saturday at Lakeside.
The Innkeepers, who lost to Kootenay Co-op 3-1 during the last regular season game of the season, had no answers for the surprising offensive push of the champs.
Ryan Lewis, Kelvin Opiyo, Danny Santano and Mike Balance, on a terrific header late in the game, scored for the Innkeepers in the win.
The defence was bolstered by the return of center back Kevin Lewis, who jetted back to Nelson from university in Calgary to play in the final.
Kootenay Co-op, defeating Old Dogs FC 1-0 in the semi final, was the defending champion.
Innkeepers dumped U18 Nelson Selects 4-0 in the other semi final.
In the Jackson's Hole Men's Masters League, Jackson's Hole held off a pesky Red Dog squad to claim the final 2-1.
Jackson's, receiving a bye in the first round of the playoffs after finishing second in the six-team league, edged Ted Allen's 2-1 to reach the final.
Meanwhile, Red Dog, finishing fourth in regular season standings knocked off first place Club Inter 5-4 in the other semi final.
In the Finley's Ladies Rec League, Dirty Dozen completed the sweep of the league hardware after edging Leo's Titans 2-1 in the final.
Dirty Dozen, winners of both the playoff and regular season titles, defeated Red Dog 3-2 to qualify for the final.
Leo's Titans, finishing third in league standings, got past Wild Cats in semi final play.