Fundraiser November 14: Everyone Needs Room To Live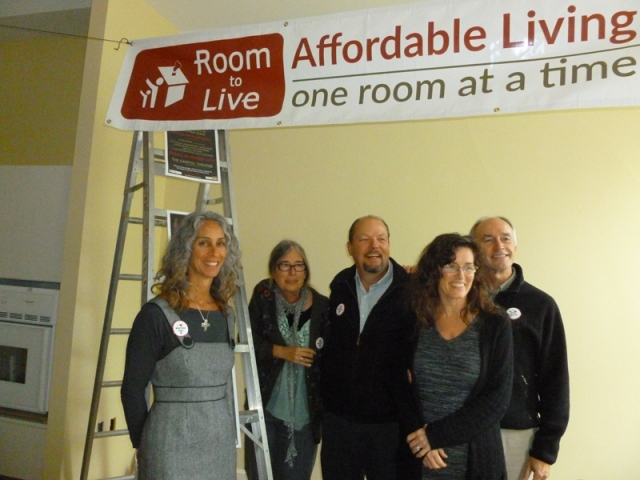 Sam is 69 years old and without Ward Street Place in Nelson, he'd probably be homeless and who knows what else.
The future was bleak for the longtime area resident.
"I was in a rough spot for about 10 years," he said. "My marriage collapsed, family members passed away, I had a tough time coping. I turned to alcohol and prescription drugs for anxiety and depression and lost my ability to earn a decent living.
"Before I knew it, I was suffering from mental anguish. Eventually I had a mental breakdown."
But somehow, Sam found enough money to get the help that led him to Ward Street Place. He had a roof over his head.
"It was a godsend. Without a place you can't function," he told a group of civic leaders, supporters and press who attended a tour of three of Ward Street's  renovated apartments on October 30.
It's one more step of many to upgrade the 100 year old building for the Nelson CARES Society and fulfill its mission to provide affordable living "one room at a time."
Renovations began in 2012 when a refinancing plan with BC Housing paid for fire safety improvements including a new sprinkler system, electrical upgrades and fire doors.
Renovating three apartments facing Victoria Street was the next goal, which is nearly finished.
When completed, the $2.9 million project will provide 45 upgraded units preserved for 50 years. Stepping Stones, the 17-bed, 24/7 emergency shelter will move from Ward Street Place to a location to be announced, and provide an additional four rental units.
To date Nelson CARES has received $2.2 million in funding for the project—77 percent of the goal — with $690,000 left to raise.
Longtime Nelson resident Isabelle Ramsay, who's father once owned the building, donated $8,000.
Community funds so far have been provided by the Nelson and District Credit Union ($30,000), RDCK ($56,500), and the City of Nelson ($15,000).
And that's where you come in, says NCARES' campaign coordinator Lisa McGeady.
"We are excited to launch our campaign to the community on November 14 at the Capitol Theatre.
"We will have a night of amazing music, silent auction and fun! We want everyone to come out and support NCARES' efforts to preserve and maintain affordable housing in our region."
The all-star line up for the evening will include R & B divas Bessie Wapp, Laura Lansberg, Bo Conlan, Aryn Sheriff, Melody Diachun and Sydney Black.
"To hear the singers we love on one stage in one night will be truly unforgettable! Backing them will be a six piece band of Nelson's finest musicians led by saxophonist Clinton Swanson," said McGeady.
NCARES bought Ward Street Place in 2002 and began seriously pursuing funding to firesafe the building after the nearby Kerr Apartments were destroyed by fire.  
Although Nelson may appear affluent, statistics show otherwise. The mean income after taxes is $29,600 compared to the provincial mean of $40,600. An average rental of $1,300 for a two bedroom costs more than half of the monthly Nelson income.
That doesn't leave much else for the necessities of life, NCARES Executive Director Jenny Robinson said. 
Studies have shown that with housing supports, 74 percent of the study participants stabilized their lives.
"Without support, only 34 percent made it," she said.
"Ward Street Place takes the homeless from a tent to an apartment, and that's a huge step," she said.
And it doesn't look like the situation is going to improve without help.
"There's a flood of people out there that desperately need affordable housing," Sam told the group.
"You can afford a one or two bedroom place and nothing else. No food, heat, light, no nothing else."
Life is now better for Sam. "I have resolved the issues that plagued me."
He said it took a lot for him to get up in front of the crowd, but he felt his story — like so many others — must be told.
"There are people whose coping skills are very good….. but there are others who are weak, and I was one of those."
All proceeds from the November 14 events go to Nelson CARES Society, Room To Live campaign.
A future event, The Coldest Night of the Year," is planned for February 21.
To learn more about the campaign or make a donation go to:
http://www.nelsoncares.ca/room-live/