Council candidate Brian Shields wants to tackle taxation, sustainability, affordable housing, and climate change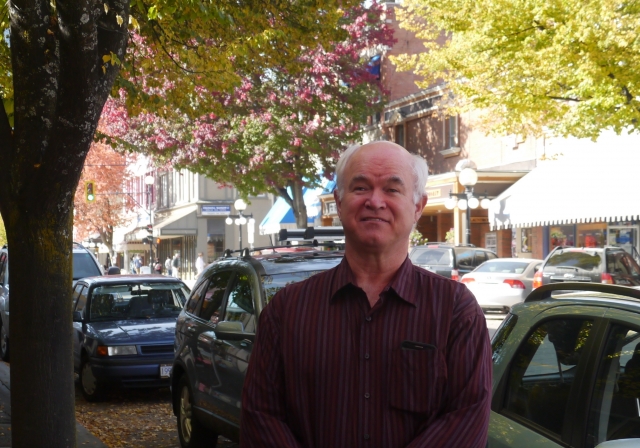 This Q&A session with council candidate Brian Shields is the sixth in a series with candidates for Nelson City Council in the November 15 municipal election. Previous articles have featured council candidates Anna Purcell, Charles Jeanes, John Paolozzi, Michael Dailly, and Valerie Warmington.
Others running for the six seats on council are Jason Peil, Janice Morrison, Jeff Shecter, and Justin Pelant along with incumbent councillors Bob Adams and Robin Cherbo.
Brian Shields moved to Nelson in 2008. For 18 months after that, he was part of public works management staff at the City of Nelson, retiring in 2010. He has 30 years of experience doing technical work for municipalities in New Westminster, Coquitlam, and especially Central Saanich, where he was the coordinator of public works. He is co-owner of West Kootenay Fire Safety Ltd.
Why are you running for council?
I am running because I want to serve the community. I love the diversity of Nelson—the markets, the music, the theatres, the neighbourhoods, the unique shops, the heritages homes and buildings. I want to protect our great city. Nelson council needs leadership and I am leader. My background working in municipal government has prepared me well for council duty. I am a knowledgeable person and have experience in the fields of environment, engineering, and risk management.
What are the main issues you would like to address as a councillor?
The principal issues are taxation, sustainability, affordable housing and climate change.
Lets look at those four individually, starting with taxation.
I feel that property taxes must be held at current levels or reduced. Many citizens live on limited or fixed incomes and current level of taxation strains our limited budgets. A core review of the city's organization should be conducted to re-define services according to regulations and legislation. I have been looking at Nelson's Statement of Financial Information, and it looks like there is room for cutting or closer budgeting.
Do you mean cutting staff?
No, I mean cutting spending on certain items that seem a little superfluous.
Can you give an example?
I don't want to go into the details of the budget, but if we look at the financial information there are some overages that might be addressed.
Premier Clark recently told the Union of B.C. Municipalities conference that she thinks municipalities' wage and benefits costs are running higher and increasing more quickly than at the provincial or federal government levels, and she is not happy about that. What to you think?
I think the wage package seems to be competitive, but the benefits side seems a bit rich. To pay over $400,000 to Manulife for 145 staff members seems gold–plated.
I have sat on both sides of the table (in collective bargaining), on the management and labour side, so I understand the issues from both points of view. I think that gives me a balanced outlook.
The second issue you mentioned was sustainability. What do you mean by that?
Sustainability is a buzzword that means lots of things. Nelson is in a unique situation with water flowing above and below. Water is the blood of the earth and it should be protected to drink, to generate energy, to provide sanitary services and to feed agricultural needs. As drought dries up some traditional sources of food we need to produce some of our own locally. We have to look at alternative energy sources such as solar wind and thermal and expand hydro to provide additional energy to assure our food security. This will provide opportunities for additional jobs and businesses.
We also have to ensure our economic sustainability and we should attempt to attract clean energy to the city for employment and strengthening the commercial tax base. Small businesses should be supported and encouraged as they are the current backbone of our community. The vibrant arts and culture that we enjoy in our community should be sustained and the council should continue to support arts and culture through continued support of the arts council.
How do you think the city should address affordable housing?
I have talked to Jim Reimer at Our Daily Bread and he seems to have some pretty creative ideas about housing at his current location. We should work with the people who work in the field because they understand the issue best of all. We should use some of the current properties the city owns. Overall we have to turn our attention to the needs of those people. Can you picture yourself sleeping outside in the winter?
When you say make use of city buildings, what buildings do you mean?
The city owns properties throughout Nelson, buildings, homes that they rent out, and I think maybe we would get more use out of them by putting more people in them, more like a rooming house. This would involve some inexpensive renovations.
What are your thoughts on growth and especially condo development in Nelson?
I think that any time you build a condo or a new building there has to be someone to come and live in it. Our population has remained static, so I think developing with hopes that Albertans or people from other regions come here to fill those spaces might be a little ambitious, but if the new housing is built as affordable I think that may be part of the answer for rentals or affordable sales.
Can a builder or developer afford to put up a building with low market rent so it is affordable to low income people?
I think so. When you look at the cost of building in the Kootenays it is still quite reasonable and I don't think it is outside the parameters of council to oblige the developers to include a certain number of affordable housing units.
One of the other issues you mentioned was climate change. How should the city address that?
I have an extensive package of information on climate change that I am going to release at the environmental all candidates meeting and I will pass that out there. All of my suggestions are things that cost little or nothing to lighten our footprint. I realize there is only some things that Nelson can do as a community, but I still think it is our responsibility to do whatever we can. Some of this would involve education. If people understood better the impacts of what they put down the drain or the toilet, they might be more aware of the impacts.
What do you think the current council has done well?
It has been a mixed bag of results. The make up of the council has made it challenging to make progress. They have done their best, and I would be hesitant to criticize anyone who taken the time and energy to sit on council, so I really want to thank for them for their efforts but I look forward to a new council that will bring a new outlook.
What do you mean by new outlook?
I think that sometimes having a new look at old issues brings a new perspective.  There are guaranteed to be at least four, so a majority of council will have a new outlook. The motivation is to bring out change and that is why they are running.
I can really only speak for myself, and having the background experience myself in working within cities and also while working as a consensus builder who values all points of view, if elected I would work to ensure that council comes to decisions and takes actions on the many important issued.
What do you think the current council could have done better?
I think the current council uses too many consultants. To consult on Christmas lights, it does not seem a reasonable way to spend taxpayers' money. We have good staff that make good decisions, I don't think we need to spend those amounts of money on consultants. We could do the work ourselves.
What would you like Nelson to be in 20 years?
I would like to see small business flourish, Baker Street to stay strong and vibrant. I see Nelson as a rosebud that is just about to blossom and what I would like to see is for Nelson to blossom in 20 years, and hold the core values it has now but strengthen some of the commercial enterprise with clean commercial business. It breaks my heart whenever I see an empty spot on Baker and I would like to see those stores full. you can do something to support small business, council should look at that.
I am co-owner of a small regional fire safety company and it has been a real lesson to me, as someone who has worked in public service his whole life, to face the challenge of small business. It is not an easy thing to run a small business, and anything we can do to help small business would be a benefit.
How the council could fill up those empty stores?
I think that council may look at some incentives. The form they might take could vary, it might be a holiday on business license for the first few years, or a small tax break of something like that to take the pressure of a new business when the pressure is the highest. I think that the reputation that Nelson has is 10,000 hippies on a hillside, so we could do a better job regarding tourism.
I see night after night tourists walking up and down Baker Street looking at closed stores and looking for something to do, somewhere to get a coffee or and pastry to cap off their evening and they wander around aimlessly and go back to their hotel.
Another thing is the dog by-law. A lot of my friends and associates from other places are really put off by the anti dog culture of Nelson and that is to the detriment of tourism.  Dogs are a big part of many people's lives and if I want to walk my dog to the dog park I have to walk through the no dog zone or walk a mile around to avoid it. It borders on the ridiculous.
What does Nelson need to avoid over the next 20 years?
We have to avoid being just another strip mall town where it is Macdonalds and Tim Hortons, and the current council  has done a good job of keeping things unique in that sense. If you have travelled and gone from town to town sometimes you could close your eyes and not know where you are. They all look the same. If you are in Nelson you know you are in Nelson.
Bill Metcalfe is a freelance journalist who covers Nelson city hall for The Nelson Daily. To receive a regular twice-monthly email with links to his most recent city hall stories, send a request notification to billmet4@gmail.com.