Bombers capture West Kootenay Fieldhockey title with 1-0 win over SHSS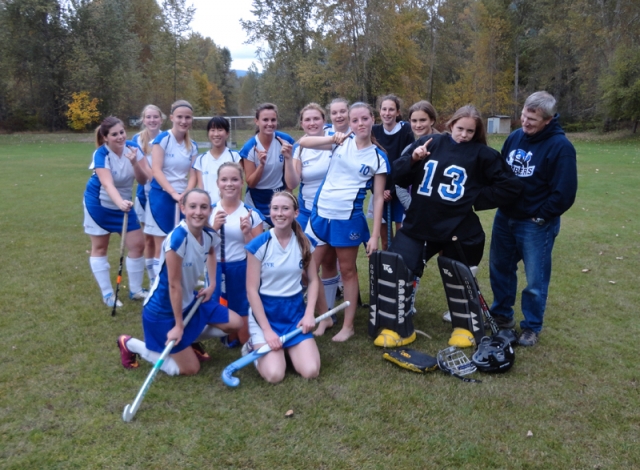 The L.V. Rogers Bombers have claimed the West Kootenay Girl's Fieldhockey regular season title by edging Stanley Humphries Rockers 1-0 Wednesday at Pass Creek Park in Castlegar.
The win lifted LVR past J. Lloyd Crowe Hawks of Trail and into top spot in regular season standings.
Grade 10 midfielder Noa Butterfield scored an unassisted goal for the only marker of the game.
"It was (Noa's) birthday (Tuesday) and we we so hoping she would score a goal then…but today made it even sweeter since it was the only one," said Bomber coach Val Gibson.
Jenna Wheeldon registered the shutout in goal with help from a solid defence of Kyra Burkart, Emma Gregorich, Grade 9 Heather Potkins and Lauren Walgren.
The Bombers now gain a bye into the West Kootenay Final next Thursday (October 23) at 3:30 p.m. at Pass Creek.
LVR plays the semi final winner between Stanley Humphries and Crowe, played Tuesday.
The West Kootenay champ gains a berth in the BC High School Field Hockey Championships November 6-8 in Oliver.
The loser of the final has another chance to qualify, meeting Fraser Valley #2 in a Wild Card game in Kelowna.
The Bombers return to the pitch this weekend for a tournament at Pass Creek Park. Teams from Mount Boucherie and Oliver join the three locals squads in the event.
Bombers knock off first place J. Lloyd Crowe in WK Fieldhockey action
Tuesday, the Bombers took a huge step toward the West Kootenay title by scoring a 2-0 victory over first-place J. Lloyd Crowe Hawks in West Kootenay Girl's Fieldhockey League action.
The win pulled the Bombers to within a point of the Hawks with Wednesday's game being the final game of the regular season.
Tara Yowek was back guarding the cage for LVR to register the shutout.
LVR was helped by the return of Abbie Bourchier-Willans who joined the team Tuesday for the first game this season.
Bourchier-Willans is also the main setter for the Volleyball squad.