Nitros score twice in the third to double Leafs 4-2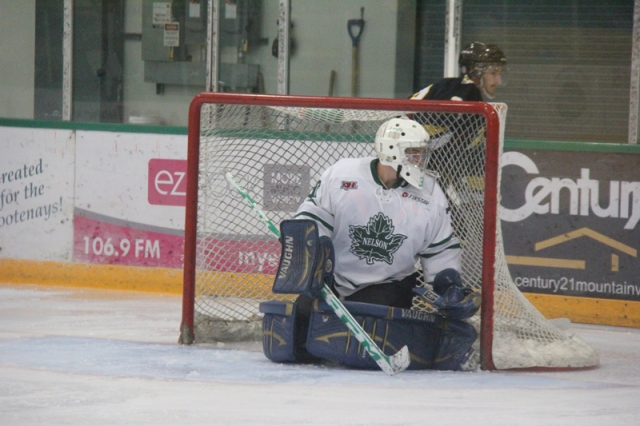 Former Kootenay Ice forward Coy Prevost scored twice in the third period to spark the Kimberley Dynamiters to a 4-2 Kootenay International Junior Hockey League victory over the Nelson Leafs Friday at the NDCC Arena.
Prevost, who led the BC Major Midget Hockey League Ice last season with 11 goals and 25 assists for 36 points, snapped a 2-2 tie with his first of two in the game two minutes into the third period before adding an empty-net marker late in the contest.
Nelson twice took one-goal leads in the first and second periods.
Branden Chow opened the scoring for Nelson in the first period.
Tyler Garcia tied the game in the second period on the power play before Rayce Miller once again restored Nelson's lead.
Jason Richter tied the game before the period ended with a the second power play goal of the game for Kimberley.
Nelson out shot the Nitros 35-20 in the contest but ran into a red-hot Tyson Brouwer in the Kimberley nets. Nelson goalie Brett Soles lost for the first time this season in the Leaf nets.
Eric Buckley and Jonas Gordon each had two assists for Kimberley.
The Leafs, dropping to 3-1-1-1 on the season hosts Sicamous Eagles at 2:30 p.m. Sunday in the NDCC Arena.
Kimberley returns home to host the Castlegar Rebels Saturday at the Civic Centre.