Mallard's Team of the Week —Kootenay Rhythm Dragons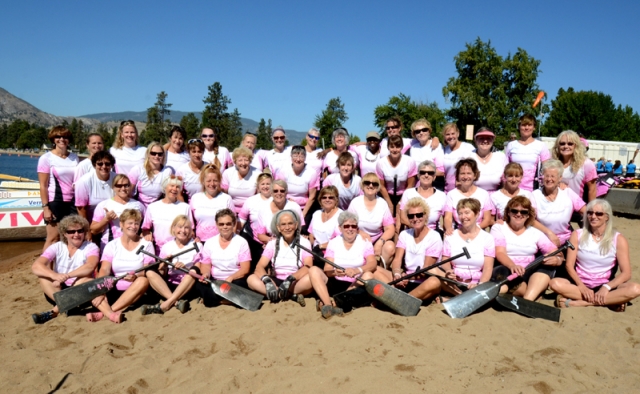 Talk about success on the water.
The Kootenay Rhythm Dragons Club celebrated its tenth anniversary in style by expanding the team while at the same cooking with the experienced clubs during competitive dragon boat festivals in Kelowna, Vernon and Penticton. 
Thanks in part to the teaching of a new stroke by Brad Hara of Toronto Paddlecore, the competitive teams have posted best ever results and for the first time having two competitive teams finish first and second at the Penticton festival.
The success of the season exemplifies the Rhythm Dragons Club mission statement:  Empowerment, Health and Well Being for all women. 
This has been accomplished with courage, tenacity, hard work, dedication, fun and laughter by an amazing group of women.
Mallard's Source for sports would like to honour the Kootenay Rhythm Dragons for their tenacity by naming the club Team of the Week.
Rhythm Dragons News:
Continuing their purposes of breast cancer awareness, two Rhythm Dragons club members, Sarah Quayle and Mary Walters, will be participating in the 2014 International Breast Cancer Challenge in Sarasota, Florida, USA in October with the Vernon Buoyant Buddies survivor team.
Photo caption:
BACK ROW, L-R, Maggie Mulvihill, Raven Ferrier, Carla Klein, Brooke Campbell, Patricia Logan, Dorothy Hatto, Heather Compton, Louise Andrews, Sarah Quayle, Coach Puleng Pratt, Jocelyn Church, Deb Ryder, Kelly Simpson, Diane Tulloch, Dana Achtem and Peggy Scott.
MIDDLE Tammy Nygaard, Amy Grumme, Frances Long, Mary Walters, Patty McMillan, Rae Macklon, and Jacqui Nordquist.
FRONT: Judy Bourne, Elaine Thompson, Chris Temnik  Dawn Jacobsen, Pat Gibson, Verna Poohachoff, Jeanette McCarvell, Marg Lozinski, Barb Couch, Kathy Manson and Deb Smith.
SITTING Jill Jacobsen, Marlene Pozin, Willa Horsfall, Sophie Goodwin, Hoda Ghamrawy, Linda Hoffman, Maureen Hendry, Lorna Maxwell, Janet Stephenson and Coach Cath Little.