SEEDS greenhouse gets a generous gift of grow-lights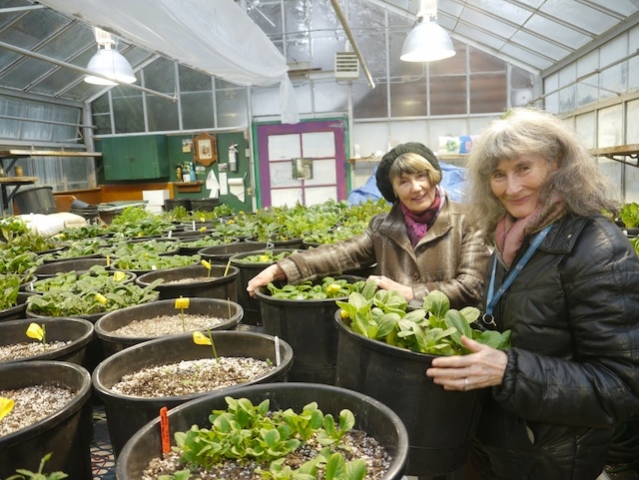 Spinach, chard, cress, arugula, beet tops, carrots, collards, mint, hot peppers, water cress, and seven kinds of lettuce—they're all flourishing throughout the winter in the SEEDS greenhouse thanks to new grow lights donated by Martech Electric and installed by the International Brotherhood of Electrical Workers union.
"They donated a lot of time and expense and we are placing some appreciative signs outside to acknowledge their support," says Lee Reid, who heads the project.
"Growing plants and gardening is the best anti-depressant serotonin boost I can think of," she says, "and with the grow lights this is completely uplifting for the winter blues. Both the plants and the people are much happier."
Sixteen months ago, SEEDS (Seniors Economic Environment Development Society), took over two city-owned greenhouses at Lakeside Park that had sat unused for years except for a few weeks in the summer. Since then, SEEDS has been growing vegetables and donating them to the Nelson Food Cupboard and to Our Daily Bread.
Doubling the harvest
The planting, care, and harvesting of the crops has been done by volunteers, most of them seniors.
Reid says the grow lights will mean a doubling of the harvest within the next few weeks.  
"We started out with no harvest a month ago before the lights came in, to ten pounds a week now, and in a month we are hoping for 100 pounds a month.
SEEDS is looking for a way of generating some income to hire staff, according to Jean Jones, the group's fundraiser and finance coordinator.  
"We are exploring how we could sell some of our vegetables." She adds that they would do that in the winter, so a not to compete with local farmers.
Jones describes herself as a long term Nelson resident, and a long time gardener with background in permaculture, beekeeping and sustainability.
Seniors connecting with children
Other future plans include more interaction with school children.
"We are developing a clearer educational curriculum in terms of agriculture and plant science," Reid says. This follows a couple of successful visits from elementary school children last fall.
"It was wonderful. We had 25 grade three and four children from South Nelson school, with quite a few seniors. We assigned three children per senior—it was a buddy system.
"An elder who worked with the kids—there was a bit of sadness and a kind of tenderness in her face—told us, 'I had forgotten how far away I had moved from children and this has brought vitality and enthusiasm to my life.'"
Grandparents and grandchildren
"The nine year old that working with me," Jones says, "was describing how she helps in her own back garden and I told her I was a grandmother and she said her Nanna was far away. That was interesting because my grandchildren are in Calgary and yet here I was on that afternoon with this nine year old who was saying, "my Nanna is far away' but here we were doing this together.
"I had the opportunity to share this time and this experience with a young person, which is so heart-warming and so necessary," Jones continues. "I remember how important my grandmother was in my life and she gave me a garden at the age of four. Those are the grounding influences in our lives. We hear that over and over from the seniors coming into this environment, that there is light, green, a cheerful atmosphere, and Lee is a phenomenal baker and brings good cookies every time." 
Seniors "welcomed, accepted, and valued"
"So many seniors are isolated, either by ill health or because their relatives are not available, and this is a place where they are welcomed, accepted, and valued. And they can see the results of their efforts. Just look around you."
Reid has begun profiling the SEED volunteers on the group's website because "I think it is important to acknowledge the meaningful lives of seniors and bring them to visibility."
A worldwide movement
Reid and Jones say the SEEDS greenhouse is unique because seniors run it, and that it is also part of a worldwide movement.
"There is this growing network of people who are saying growing our own food is important to us, local is important to us, organic is important, and connecting our young people with our elders through mentoring, as well as connecting young people with the food growing process."
Click on the photos below to enlarge them.