RCMP continue search for smash-and-grab thief after more businesses hit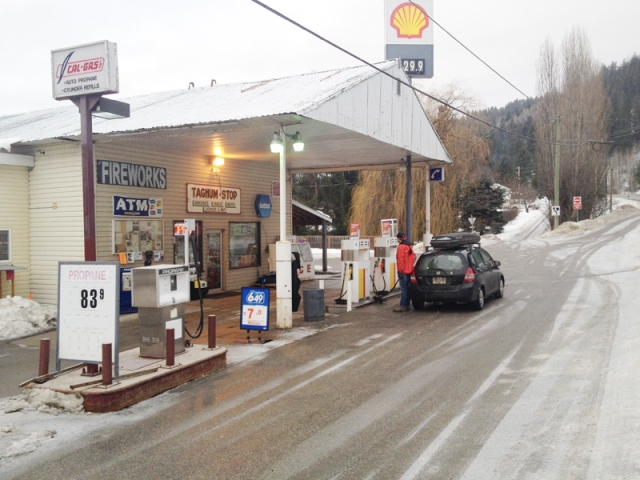 A smash and grab thief may have run his course in the region following the latest string of break ins into businesses in the West Kootenay.
RCMP report the thief, who broke into various businesses Tuesday night and Wednesday morning in Nelson and Castlegar, was back at it in the early hours of Thursday at Taghum Shell and Salmo's The Dragonfly Cafe.
A Taghum Shell the alarm sounded approximately 2:43 a.m. of a break in at the gas station convenience store located 10 kilometers west of Nelson.
The owner arrived minutes later to find the thief had busted in the front door and stolen various alcohol and cigarettes items.
The thief damaged the cash register breaking it open but found no cash.
The cost of the damage is estimated at approximately $1,000.
A short time later, RCMP received the call at the Dragonfly Cafe, where this time the thief gained entry and took the whole cash register, getting away with $300 cash.
Wednesday, RCMP believe the same smash-and-grab artist broke into Kootenay Savings Credit Union at South Slocan, Canadian Tire and the Thirsty Duck Pub in Castlegar as well as Amanda's Restaurant in Nelson.
RCMP released description of the person as dressed in a dark jacket with black sweatpants with a large white stripe on each leg and was wearing a balaclava or ski mask.
The vehicle description was an older white or grey car – possibly an Audi or Honda product.
Thursday's released changed to a dark colored, mid-2000 model Honda or Toyota Sedan.
 
Central Kootenay RCMP are requesting that anyone with information on who is responsible for these break and enters, in addition to those which happened the night prior, to please contact the Nelson or Salmo RCMP, or Crime Stoppers at 1-800-222-TIPS(8477).