Different-looking Bombers drop heartbreaker in final of Eagles Tournament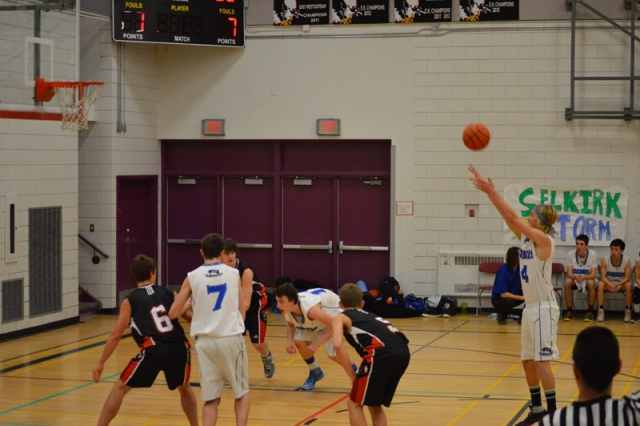 What a difference a week and a few extra players makes.
The L.V. Rogers Bombers looked like a completely different team en route to a second place finish at the Eagles High School Boy's Basketball Tournament Saturday in Golden.
The Bombers suffered a heartbreaking 61-60 loss to Valleyview of Kamloops in the final of the eight-team tourney.
However, witnessing a team compete after being completely out-classed the week before gave everyone on the team, including head coach Jeremy Phelan, reason for optimism heading down the stretch of the high school season.
"This was a big boost of confidence for our guys making it to a final," Phelan said.
"Last weekend down to eight players along with missing a lot of our stronger players," Phelan added.
"(In Golden) we had a had deeper bench and Josh Matosevic and Isaiah Kingdon on the trip which helped us with our ball handling defence and scoring."
In the final, it appeared the Bombers were ready to sip from the championship cup when an excitable player received a costly technical foul in the final minute of the game.
LVR had a 10-point lead before the Kamloops squad began to peck away at the margin.
Trailing 60-59, Valleyview sank two free throws to grab the lead for good.
"Valleyview didn't pressure the ball so we were able to execute our zone offence," Phelan explained.
"We overloaded their 1-3-1 zone defence and picked them apart with our guys converting high percentage shots."
Bjorn Morris led the Bombers in scoring with 20 points while Ethan Perkins had 16 Isaiah Kingdon 11.
The Bombers opened the tournament with a 64-51 win over Selkirk Storm of Kimberley.
The Storm jumped on the Bombers early, building up a first quarter lead.
But LVR found their running legs to overpower the Storm over the rest of the game.
Morris was again the top scorer for LVR with 19 points while Hanno Southham and Sida Wang each had eight.
LVR then outlasted Mount Baker Wild of Cranbrook 52-36 to advance to the final.
Perkins was high man for LVR with 18 points while Morris had 11 and Kingdon eight.
The Bombers, 6-5 on the season, are back on the road this weekend, this time back in the Okanagan at the Kalamalka Lakers Senior Boy's Tournament.